This Cheez-It Is Proof That Dads Don't Pay Attention To Sh*t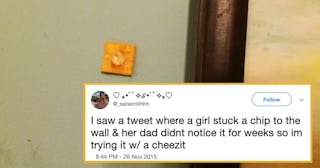 w_sarasmithhh/Twitter
Dad doesn't notice a Cheez-It stuck to a wall in his house for four entire years
On November 26, 2015, a girl stuck a Cheez-It to a wall with a thumbtack to see if her dad would notice it. He did not. In fact, he didn't notice it for nearly four years until his son-in-law pointed out the rotting Cheez-It stuck to the wall.
Sara Smith saw a viral tweet in 2015 where a girl stuck a chip to a wall to see if her dad would notice (he did not), so Sara decided to try it on her own dad but with a Cheez-It.
Sara tacked the Cheez-It to the wall above a frame and then proceeded to document how long it would take before her dad noticed it. It took almost four years.
"Day 10 and it is still there, stay tuned to see how much longer it will take my dad to notice it," she tweeted on December 6, 2015.
On April 3, 2016, her dad rearranged the furniture near the Cheez-It and still didn't see it.
"Day 173 and my dad is still clueless…. and honestly I forgot about it too… this is sad," Sara wrote on May 17, 2016.
A year passed, still nothing from dad.
On day 383, Sara wondered if the Cheez-It would rot.
So much time passed that the Cheez-It did rot and Sara got in the habit of replacing it every so often.
By Christmas 2017 — more than two years after she established the Cheez-It gag — Sara got her dad a box of Cheez-Its for Christmas, hoping he would get the hint.
He did not.
Time continued to pass, Sara moved out of the house but kept up the gag.
"Day 1,001!!!! wow!!! (i don't live there anymore so my stepmom sent me a picture) i am shocked and disgusted that we've made it this far!! also, people told me that when they see me they think of the cheezit!! i'm sad that that's what i'm known for!"
It went on and on like that for almost four years until Sara took to Twitter to announce the end of an era after her brother in law "spoiled it."
"It is with sadness that i must announce that the gag is up," she wrote on Twitter. "After 1,410 days – almost 4 years – my brother in law spoiled it for us and mentioned it to my dad."
The internet had some choice words for the brother-in-law.
Sara concluded her post with the following: "Thank you to everyone who's supported the cheezit & i through the years, im sorry my naive family didn't understand that when it rots you simply replace it. i'm just disappointed as you all are."
Cheez-It has not responded to the incident.