Mom Of 2 & Olympic Medalist Competes In 1st Gymnastic Meet In 9 Years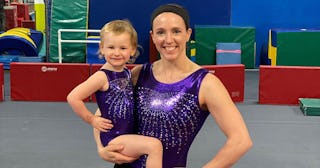 Chellsie Memmel/Instagram
An Olympic silver medalist and mom of 2 kiddos came out of her 9-year retirement at age 32 to take part in a gymnastics competition over the weekend
Proving that mama energy is the best energy, Chellsie Memmel competed in two events at the GK US Classic in Indianapolis. The event marks the athlete's return to the sport she loves.
During her performance, she slipped a bit while doing a somersault but was able to finish strong, according to People. Despite her impressive showing, Memmel's score was not enough to meet the metrics of a Tokyo Olympics qualifying score. However, her request to compete again at the national level has been accepted, the magazine reports.
Before the competition, Memmel worked out some pre-contest jitters with a quick Instagram post.
"It's here, it's happening….training day complete. Very weird walking into the arena as a gymnast again but amazing at the same time," she captioned the photo. "Everyone was so welcoming and supportive and I couldn't have asked for a better first time back out on the floor. Hoping tomorrow will have a few less nerves(but I know it won't). Thank you for following along on this journey that has lead to my first competition in 9 years….here goes nothing!!!"
After the competition, Memmel returned to the platform to thank her supporters.
"It takes a village….thankful for every person in mine (those pictured and many who aren't) this journey would not have been possible with you and I appreciate all the support and encouragement you have given me," she posted after the competition. "I truly could feel the love today. The journey continues!"
Retired gymnast Nastia Liukin praised Memmel for her strong comeback on Twitter. Liukin posted a photo of the two of them and wrote, "SO incredibly proud of you Chel. You are inspiring the entire world – every generation – showing that age is truly just a number AND your true love and passion for the sport @CMemmel."
The Wisconsin native won an Olympic silver medal back in 2008, and in 2005 she was the first US woman to earn the all-around gold medal since 1994 when Shannon Miller won her second consecutive title, according to People. Memmel wanted to return to the sport to get in shape after having children, the mag reports.
"I love doing gymnastics," the mom of two remarked after the competition. "There definitely are those hard days, but those days are the ones where I'm like remembering 'You're just pushing yourself. You're having fun. You're seeing how far you can actually take this when people said you should have retired when you were 20 or when you're 24. You can't have kids and come back to a sport.'"
Memmel admitted she didn't know how she would feel when she got back on the floor but was happy she did.
"I feel like this is a win," she said. "I didn't know what to expect honestly when I got out on the floor … obviously beam didn't go as I wanted but I'm happy. I put myself out there and I couldn't have asked for a better day."
Memmel said she hopes her comeback to the sport inspires others to pursue their passions and follow their dreams. "I just wanted to put that message out to anybody who thought they missed their chance at something or didn't get a chance to try it," she said. "No one should be stopping you. Just don't hold yourself back."