Pre-Order Now: Chelsea Clinton's Book 'She Persisted'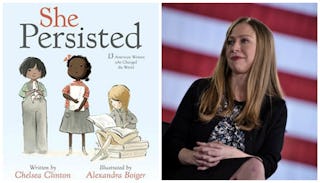 Philomel Books / BRENDAN SMIALOWSKI / Getty Images
When Senate Majority Leader Mitch McConnell stopped Senator Elizabeth Warren from speaking during a debate about Jeff Sessions's cabinet appointment, he didn't intentionally start a movement.
But now, we all know what he said:
"She was warned. She was given an explanation. Nevertheless, she persisted."
The pushback began immediately, of course. We took that quote from McConnell, and we owned. Because we women? We do persist. Even when we are warned, even when we are given an explanation. If we are passionate, and defending what feels important and right, then we keep going. We are very persistent like that.
Chelsea Clinton was also inspired by these words, and by now, many of us have heard of her upcoming children's book "She Persisted." This book is intended to enlighten and inspire our children by introducing them to American women who have truly persisted throughout history to pave the way for us all.
From Rosa Parks to Helen Keller, this book promises to inspire.
There's also a special cameo that remains unnamed, and I think we all know who that might be.
You can pre-order now for $11, and the book comes out in May.
This post contains affiliate links, which means we receive a small portion of the sale if you make a purchase using this link.