Scary Mommy Interview: Chelsea Clinton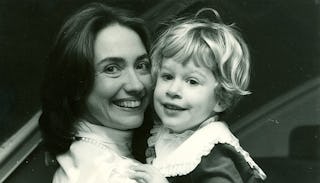 Hillary For America
As a mostly work-at-home mom, I know all too well how far we'll go to make sure our kids don't interrupt an important call. I'm not talking about parking a kid in front of the television — nah, that's for amateurs. As a mom who has worked from home seven days a week for the last eight years, I learned early on that I was going to have to get a lot more creative than the TV.
I've taken calls from the bathroom, with my feet perched on top of the toilet so the kids can't tell I'm in there. I sat outside in a blizzard one winter, just to conduct a call in peace with all the kids gleefully off from school. And I once let my boys play in the shower for 90 minutes while I took an unusually long call, causing a massive leak through the ceiling in our living room, about which my husband and I still cannot speak.
You can imagine, then, how stressed I was earlier this week when my 10 year-old was home from school on the same morning that I was scheduled to do a one-on-one phone interview with Chelsea Clinton. My middle happens to be a kid who thinks it's hysterical to fart on my face and has no qualms about screaming my name from across the house when he needs, like, anything. So I was quite relieved when Chelsea got on the phone and immediately informed me that her daughter, Charlotte, was home and could burst into the room at any moment.
Chelsea, who explained that Charlotte is currently fascinated with opening and closing doors, because it's like a "great big existential game of hide-and-seek," was warm, open, and relatable. Well, as relatable as one whose daughter engages in an "existential game of hide-and-seek" can be while my own offspring flips plastic water bottles and practices on-demand belching.
Chelsea spoke nostalgically about her childhood in Arkansas and about the many Saturdays she tagged along while her mom — with whom she is "intensely close" — had to spend a few hours in her law office. She said even at that young age, she understood that these Saturday office hours were a sacrifice they needed to make in order to ensure Hillary was home for dinner every night during the week, the family's time to connect.
She recalled with affection how Ginger, her grandmother on her father's side, once bought her a pair of rainbow Velcro shoes to the chagrin of Hillary, who really wanted Chelsea to learn how to tie her own shoes. So they came up with a compromise: For every day that Chelsea tied her own sneakers, she could wear the rainbow Velcro shoes, but never two days in a row.
Chelsea talked about her father's first presidential race in 1992, back when these campaigns lasted just 13 months (aka the good old days). She noted with pride that during that whole campaign, her mom would arrange her schedule so that she spent all but three nights in the same house as Chelsea. As she recounted this accomplishment, I could hear in her voice the respect and empathy of a woman who herself knows all too well about the sacrifices working moms make to ensure that their kids endure none. (Remember that ridiculous "controversy" when Chelsea's husband was photographed taking Charlotte to her first day of preschool while Chelsea was on the campaign trail?)
When Chelsea called her relationship with her mother "intensely close," I immediately understood what she meant. For those of us lucky enough to know our own mothers as the complex, three-dimensional women they are rather than the characters they play in the stories of our lives, we know that closeness. It's this "schism," as Chelsea calls it, between Hillary the person and Hillary the candidate that makes the public scrutiny so baffling to her. "I have never understood the public narrative," Chelsea tells me, without a hint of resentment.
Chelsea shared with me how much she has enjoyed watching her mother step into the role of Granma ("No D!" she clarifies) to Charlotte and Aidan, who love when she sings "Moon River" to them even though "she has a terrible voice."
And now, as Chelsea finds her kids' Granma on the cusp of making history, it's clear that she has given a great deal of thought to what she can do to narrow that so-called schism, so that Charlotte and Aidan can see that a woman like Hillary can be more than one thing, that she can be both the Granma they love and a president for the people.
To that end, Chelsea recently brought home a miniature Hillary action figure that she was given at a campaign event. Charlotte loves taking the action figure of her Granma, dressed in a smart blue pantsuit, into the bath with her. But recently, she asked Chelsea why "Granma no H?" — meaning why isn't the action figure dressed in one of the H-emblazoned T-shirts that Chelsea and other family members wear so often.
"Because Granma is the H," she replied.
She sure is.
This article was originally published on