Chelsea Clinton Wrote A Children's Book, And You're Going To Want It
by Valerie Williams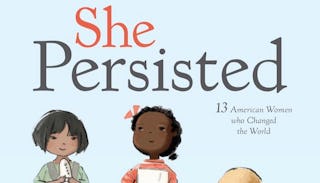 Image via Twitter
The book tells the stories of 13 American women who persisted, no matter what
As another day passes where Senate Majority Leader Mitch McConnell (R-Ky.) probably regrets his now-infamous words silencing Sen. Elizabeth Warren (D-Mass.) on the senate floor, we have exciting news for all of us still "persisting." Chelsea Clinton wrote a children's book and it's called, you guessed it, She Persisted.
According to Entertainment Weekly, the former First Daughter was inspired by Senator McConnell's admonishment of Warren when she refused to stop speaking in her opposition to the appointment of Senator Jeff Sessions to the position of attorney general. McConnell said, "She had appeared to violate the rule. She was warned. She was given an explanation. Nevertheless, she persisted."
Damn right, she did. And in the same genius way that women coopted President Trump's calling Hillary Clinton a "nasty woman," there's now every kind of "she persisted" merchandise available in the wake of McConnell's remarks. Clinton's book is another fun addition (I write, as I sip coffee from my "She Persisted" mug).
Clinton's tweet announcing the book's release reads, "Persistence has changed the course of history ― I'm so excited to share stories of girls & women who didn't take no for answer on May 30!"
The book pays tribute to 13 American women who changed the course of history. They include Harriet Tubman, Maria Tallchief, Claudette Colvin, Oprah Winfrey and Sonia Sotomayor.
And yes, ET teases that a cameo from a certain female presidential candidate is happening. We're in serious suspense over who that might be.
"I wrote this book for everyone who's ever wanted to speak up but has been told to quiet down, for everyone who's ever been made to feel less than," Clinton says in a statement. "The 13 women in She Persisted all overcame adversity to help shape our country—sometimes through speaking out, sometimes by staying seated, sometimes by captivating an audience."
After being raised by one of the world's most influential (and persistent) women, Clinton is somewhat of an expert on the subject. It's exciting to see the mom of two reaching out to kids with inspiring stories about women who never quit, even when they were told to.
"With this book, I want to send a message to young readers around the country—and the world—that persistence is power," Clinton says.
In these uncertain times, it's a message we all need to hear.
This article was originally published on