'Chewbacca Mom' Is Having The Best Week, Ever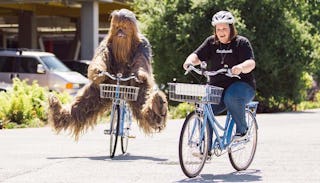 Via Facebook/ Mark Zuckerberg
The mom who took the internet by storm for simply overflowing with joy is having the best week, ever
Candace Payne is having a truly phenomenal week, and the internet is loving every minute of it. The mom shot to fame last week when a video she streamed on Facebook Live essentially broke the internet — tallying up 144 million views. What was she doing in the video that's been viewed more than any Facebook live stream, ever?
Laughing.
She was laughing at herself, filled with joy at her own reflection, wearing a Chewbacca mask she bought for herself for her birthday. Coincidentally, she happens to be the most likable woman on the planet. Her joy is really contagious, and because of it, she's had the most incredible week.
Last night Mark Zuckerberg posted some photos to his Facebook page of Payne's visit to Facebook headquarters in California. "We invited Candace Payne — whose Chewbacca mask video got 141 million views and is now the most-watched Facebook Live video ever — to come by Facebook HQ today," he wrote. " And we had a fun surprise for her!" Yup. Biking around Facebook headquarters with Chewbacca is a pretty awesome way to spend the day. So is having a coffee date. This is just the best.
And that's just the latest extremely cool thing to happen to her. Immediately after her video went viral, Kohl's (the store where she purchased the mask) sent her a treasure trove of Star Wars goodies for her whole family. They were also given $2,500 in Kohl's gift cards. "Candace made the Internet's day, so we wanted to make hers," said a message next to the image of Candace and family with their goodies, "Chewbacca masks for the whole family (and a little extra too)!"
Her Facebook page is so fun to browse through. It documents the best week, ever. And if you missed her appearance on The Late Late Show With James Corden, you should watch it now. She does carpool karaoke with the hilarious host, and Star Wars director J.J. Abrams pops in to give her some pointers on how to get the most out of her mask.
Please never go away, Candace. Maybe Kohl's should make her their new spokesperson — or something even bigger. She's so damn likable! A talk show maybe? Who knows, we just want to keep seeing this woman!
This article was originally published on