Police Wrongfully Handcuff Crying, Terrified 10-Year-Old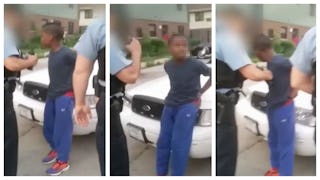 Image via Twitter/@Matsamon
Video shows the young boy being handcuffed and interrogated by Chicago police
A 10-year-old boy was playing outside his grandmother's house when Chicago police suddenly detained and handcuffed him. They forced a child to lean against the hood of the police car while grilling him about possessing a gun.
Police have since confirmed the child is innocent, and are calling it a case of "mistaken identity."
Michael Thomas Jr., the young boy at the heart of this disturbing story, was apparently mistaken for another child who escaped a nearby juvenile detention facility and was reportedly armed with a gun. The entire scene was captured on film — and the confrontation is incredibly heartbreaking to watch unfold. Particularly because Michael is clearly terrified, so much so he wet his pants.
You can hear the cries of "That's our kid" and "Unbelievable, he's just a kid" from Michael's family members and neighbors in the background of the video. The child looks completely paralyzed by fear as the police ask him if he escaped a juvenile detention facility. According to Newsweek, police say Michael initially ran when police attempted to confront him.
You know why? Because even 10-year-old black boys understand that in the U.S., white police officers are figures to fear. In 2017, 27 percent of people killed by police were black. Black people currently make up just 13 percent of the U.S. population. Research from the American Psychological Association shows that black children and adults over the age of nine — NINE — are seen as "significantly less innocent than white children and adults." Not to mention, it sure seems like white people jump to call the police on black people simply for existing.
It's no wonder young Michael Thomas Jr. was absolutely terrified in that video. Here we have a child who was innocently playing outside one minute, and then part of an intense police interrogation while handcuffed the next.
"I was scared and I was crying and that's when they told me I had escaped from juvenile and I had a gun," Thomas Jr. told WMAQ-TV. "I said I didn't escape from juvenile and I don't have a gun." Chicago police Superintendent Eddie Johnson told WLS-AM radio that Michael was released from handcuffs after about 15 minutes. He claims the police followed "all the rules and protocols."
They may have followed all the proper procedures in this case, but the police also completely traumatized a young child. Michael's mother, Starr Ramsey, is demanding answers. "Ten years old and you get handcuffed? You scarred him for life."
This article was originally published on