Restaurant Invents 'Mom Valet' Because Taking Kids Out To Eat Is A Huge Pain In The A**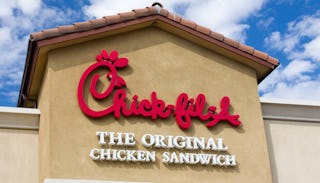 Chick-fil-A introduces new 'Mom's Valet' service to help parents dining with small kids.
Taking kids out to eat is a huge pain in the ass, but the geniuses at one popular fast food restaurant have found a way to make it a million times easier. Hundreds of Chick-fil-A franchises are introducing a service called "Mom's Valet."
Using the service, parents can place an order in the Chick-fil-A drive-thru and request a "valet" who will find them a table, get the correct number of high chairs, fill drinks, and set out the food and their desired condiments. All the parent has to do is park their car and bring their kids inside to sit down and eat. Now, if they could just start serving wine, we'd be all set.
According to Today, the valet service is the brainchild of dad and Chick-fil-A franchise owner Scott Brickhouse. Four years ago he was taking care of his four sons by himself and realized feeding kids is really damn difficult. It was so hard, in fact, he ended up ordering food at a drive-thru and feeding everyone in the car while his kids were still buckled in their seats. He started "Mom's Valet" — because "Parents' Valet" would have been too progressive, I guess — in his own two restaurants and the idea caught on.
Currently, more than 100 Chick-fil-A restaurants offer Mom's Valet, and 150 more store owners have expressed an interest in adopting the service at their own locations. A Florida mom who regularly uses Mom's Valet told Today, "It's extremely convenient. To have someone kind of serve you, to be willing to do something for you, to be doing a little bit of extra assistance…it's an extremely nice service."
Chick-fil-A is not everyone's first pick on the list of places to eat, but their valet service is definitely a cool idea and addresses the reality that dining with kids — even in family-friendly restaurants — is absurdly challenging. Most parents would love a break from cooking every now and then, but the stress of juggling a huge tray of food, wrangling babies, finding a table, grabbing high chairs, and then ending up with a cold meal while you tend to a million other things kind of makes it not worth it.
This service helps out with some of the more tedious and difficult details that keep families at home. With luck, all of this praise will get the attention of other restaurants so parents can have a few more options on those nights where getting dinner on the table just isn't going to happen.