The 'Chicken Noodle Soup' Remake Is The New Song Your Kids Will Drive You Crazy With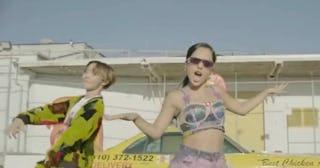 YouTube
"Chicken noodle soup, chicken noodle soup, chicken noodle soup with a soda on the side"
When "Baby Shark" went viral earlier this year, parents of young children quickly started upping their dosage of Advil. For those of us forced to listen to it on repeat, watch endless "Baby Shark" parodies and even buy toys that played the song, it felt like it would never end. Now that those little sea creatures aren't making so many waves, there is a new viral sensation sweeping the world like an infectious disease.
Instead of involving predatory animals, it has to do with chicken noodle soup. Uh, huh, soup. And it might be the equivalent of "Baby Shark" for parents with teens or tweens.
On Friday, South Korean boy band BTS star, J-Hope and American singer, Becky G, released a collaboration, "Chicken Noodle Soup," a remake of the 2009 song of the same name. In the video, the duo, as well as their backup dancers, demonstrate a meticulously choreographed arm-flapping (yes, like a chicken), leg-shaking dance that goes along with their soupy song.
Because their marketing team is totally genius, they had J-Hope challenge fans in an accompanying TikTok video to learn the moves to the dance and demonstrate them as part of the "CNS challenge."
In less than 24 hours, the video has garnered over 25 million views on YouTube. Yep, 25 MILLION. So if you hate the song, we are so, so sorry.
It appears that tons of people were up all night practicing their moves, because there are already numerous members of the #CNSchallenge. For those of us who can barely slow dance, it is pretty incredible that in just a matter of hours, anyone could learn and perfect such a complicated and intense dance.
Let's talk about the song. It originally came out in 2006, courtesy of Harlem-born artists Young B. and Webstar. The video was released three years later in 2009, and has amassed 11 BILLION views in a decade. Apparently it was a huge deal with teens and tweens at school dances during that time, so if you are an adult and have never heard of it it's probably because you didn't have kids back then. Music industry execs must have seen an opportunity with the whole viral challenge trend, they decided it was time for a revamp.
While younger kids might be into it, we are guessing that for the second time around, it is going to dominate the school dance scene like "Gangnam Style" did back in the day. We literally have no idea what it is about, other than chicken soup, but who cares? It's definitely catchy.
Listen to it just once and you won't be able to get it out of your head all day. Or don't (if your kids will allow it), and save yourself from humming "chicken noodle soup, chicken noodle soup, chicken noodle soup with a soda on the side" for endless hours.