Forgiving The Father Who Physically Abused Me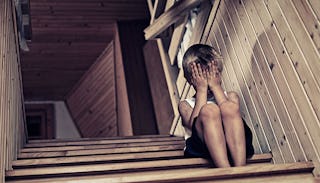 iStock / Imgorthand
I was born on the 21st day of September 1981. I have a brother who is five years older than me, and a sister who is seven years older. Together with my mother, we lived in a small city called Esposende, in the north of Portugal.
My father was working in another country during the year, and I would only see him at Christmas and summer vacations. My first memory of him is when I was 4 years old. I remember the pain and crying because he was beating me. I remember how hard he hit me and the marks on my body. I remember my mother crying and screaming, begging him to stop.
This man was supposed to be my father, but he didn't give us love. Summer and Christmas vacations were nightmares for our family. I remember being scared of him—scared of what he could do to me, my brothers, and my mother.
One day, my mother told us she couldn't take it anymore—it was too much. She asked for a divorce and another nightmare began. He was furious, and we had to run away. I remember sleeping in a car in front of the police station because we were too scared to go home. We didn't have any money, because he took it all.
But my mother said, "Don't worry. I will always take care of you and won't let anything bad happen."
And my mother was right. She took care of us and made sure nothing bad happened, she protected us from child abuse, and seven years later, she got the divorce she had so badly desired. My brother and sister were already working for me to have a chance to study. My family put forth a lot of effort and sacrifice for many years, but we felt free and happy.
We could finally fly.
About three years ago, my sister called me and told me he had died of a heart attack.
I, my mother and my siblings all went to his funeral. We did it out of respect, but mainly for each one of us. I went to the church, and it was an open coffin. I could look at him. I looked at his face and said to myself:
Rest in peace. You were never my friend, but I forgive you for all the pain, for all the bad things you did to us. I forgive you for not being a father.
Forgiveness is what makes us better humans. Forgiveness it what separates bad people and good people.
Without forgiveness, you cannot move on with your life. Forgiving the only person I've ever hated in my life made me a better man. It was painful, but necessary. I needed to forgive him more than I knew. Forgiveness was the way for me to finally feel free from the child abuse I suffered. I have actually forgiven myself.
Everyone is responsible for something good in the world, and he is responsible for me having my lovely brother and sister.
Forgiveness sets you free.
But a story like this must have something more. We all deserve a happy ending.
There is always time to fall in love again. There is always a chance to find happiness again, and my mother did it. She found love. He accepted us as his own children. He loves us, help us, and taught us so much.
I remember him always saying, "We are the richest family in the world because we laugh everyday!"
He loves my mother.
He loves my brother. He loves my sister. He loves my family. He loves me.
This man is my father and a grandfather to my kids:
This post originally appeared on Medium.