Parents Knew Child Was COVID-19 Positive And Sent Him To School Anyway
by Cassandra Stone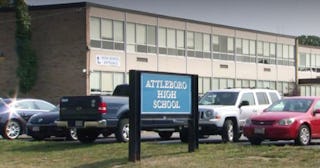 CBS Boston
Now 30 people who came into contact with the COVID-positive student have to quarantine for two weeks
Days before the beginning of the school year at Attleboro High School in Massachusetts, six students tested positive for COVID-19. Five of them stayed home to recover, but one of them attended the first day of school in-person anyway. Now, approximately 30 people who came into contact with that student are quarantining for two weeks.
The mayor of Attleboro, Paul Heroux, confirmed that the student was tested for the virus on Sept. 9 and the positive result came in Sept. 11. The student then went to school for the first day of classes on Sept. 14.
Mayor Heroux said a public health nurse for the city spoke to the family on Tuesday and confirmed that the parents had known for days that their child had the virus before sending him to school.
"It was a reckless action to send a child — a teenager — to school who was COVID-positive," Attleboro Mayor Paul Heroux told WHDH. "It was really poor judgment. If you know that your child has coronavirus, is COVID-positive, you should not send your child to school under any circumstances."
According to the Washington Post, Attleboro Public Schools has about 6,000 students in the district, and is currently operating under a hybrid learning model for the 2020-21 school year. The high school split students into two groups — half of whom are doing in-person learning on Monday and Thursday, and the other half going in on Tuesday and Friday.
Attleboro High School Principal Bill Runey told NBC News that a concerned member of the community contacted the local health department initially. "Long story short, rumors started circulating around town, so someone contacted the bureau of health here in Attleboro and did some checking and found out that it was true, that he had tested positive," Runey said to NBC News.
In Massachusetts, there have been at least 126,000 confirmed COVID cases and more than 9,200 deaths.
With a majority of U.S. school back in session for in-person learning, instances like this could become more commonplace than anticipated. Runey said that contact tracing and precautionary measures put in place at the school played an important role in identifying who the infected student put at risk.
"I was pleased that our contact-tracing protocols we put in place helped us pretty quickly ID and narrow down close contacts," Runey said, per NBC. "Thirty is still a lot, but if we didn't have greater degree of certainty with seating charts and things like that, we would have had to err on the side of caution for a lot more kids."