Child Identity Theft Is Real And Here's How Parents Can Prevent It
by Julie Scagell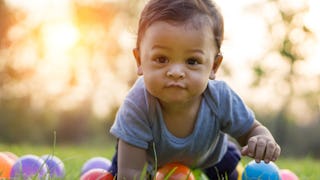 Image via Istock/Getty Images
If your child's info falls into the wrong hands, it can be a lifetime of clean up for them
Identity theft is a very real risk and constant concern for adults. But did you know that in 2017 alone more than one million children were victims of identity theft as well? With all of the data breaches that have happened at financial institutions and credit agencies, most of us have experienced some form of fraud in our lifetimes and as such, likely pay close attention to our accounts. But what about our kids?
A new law, the Economic Growth, Regulatory Relief, and Consumer Protection Act, went into effect on September 21st making it easier for parents to freeze their kid's credit — and they can now do it for free. It's an important step in protecting our kids, because if identity theft goes unnoticed for a period of years (which can easily happen since kid's aren't checking their credit scores) it can have lasting impacts on them when they are older.
"Child identity fraud is a serious problem and is frequently overlooked as the public focuses on high-profile breaches involving the personally identifiable information of adults," said Al Pascual, Senior Vice President, Research and Head of Fraud & Security at Javelin Strategy & Research. "Child identity fraud has unique characteristics that make it particularly hard to prevent, though there are steps that parents and guardians can take to help keep children safe."
Credit freezes essentially restrict access to your credit file, so identity thieves can't open new accounts in your name. In the past, credit freezes cost money based on where you live and were limiting when it came to a child. But with the new law, no matter where you live, you'll be able to get a free credit freeze for children under the age of 16, according to the Federal Trade Commission.
They also used to take time, involve multiple steps to do so with all three major credit agencies (Experian, Equifax and TransUnion) in order to ensure all of your bases were covered, which was basically a giant pain in the ass. But now, thanks to the law, freezes have to be implemented by the next business day, and unfreezing takes no more than an hour. It will also allow you to put a fraud alert on for a year (previously 90 days only) which will alert you to any unusual activity on your accounts.
To do this, you need to first find out if your child has a credit file in the first place (which if they do, is likely because there is already someone trying to steal their identity) by calling the three bureaus above. If none exists, you will need to create a file for your child with each agency in order to freeze it.
Each agency requires a whole bunch of documentation to be sent in via mail or online and the process varies slightly by agency. To do so for Experian, you can click here, for Equifax click here, and for Trans Union here.
It sounds confusing and it is time consuming, but putting those extra measures in place now can save them a way bigger (and more time consuming) experience in the future.