Little Kids Should Be Allowed To Have A Lemonade Stand, Dammit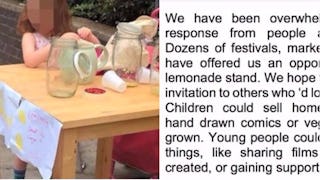 Image via Twitter
Yet another child was taken to task for having the nerve to sell lemonade
It hasn't been a great week for little girls who want to sell lemonade. We had a jerk threaten this darling child with a call to the police after she set up a lemonade stand outside her gated community and now, a London five-year-old had the police actually force her to shut her stand down.
This is why we can't have nice things, everyone.
The British are a lovely people who rarely get their knickers in a twist unless you serve them a bad cup of tea or call football "soccer." But imagine the anger Andre Spicer felt when a couple of cross policemen rolled up to his daughter's lemonade stand and shut it down.
Spicer helped his five-year-old daughter set up a lemonade stand to sell to people headed for the Lovebox music festival in nearby Victoria Park. She sold small cups for 65 cents and large ones for $1.30 which we think is quite the bargain given standard London prices. But four local law enforcement officers were not having it and stormed up to her table, Spicer said.
Man, if you are a Spicer this is just not your week.
According to NBC News, the biggest douchebag of all the douchebags switched on his portable uniform camera, "then proceeded to read a lengthy statement essentially telling the young girl she would be fined $195 (£150) because she didn't have a trading permit." Then added, "But don't worry, it is only $130 if it's paid quickly." Ohhh, well that makes everything better, sir. Why didn't you just take her earnings and tell her Santa isn't real while you are at it?
Spicer told ITV News with that his daughter burst into tears, asking him, "Have I done a bad thing?" The father-daughter duo packed up their lemonade and went home, with his daughter sobbing the whole way, her dad says.
According to ITV News the entire situation has left a sour taste in their mouths. "Maybe we can apply for the right permit and do it again at some stage," Spicer said. His daughter replied, 'That's a bit scary.'" Good job, officers. Way to protect your city from refreshing lemonade and little girls.
In the wake of the incident, Spicer and his daughter are taking their lemons and making lemonade (see what we did there)? The pair are encouraging other kids to sell lemonade, home-grown produce, or even their own artwork at festivals and markets.
Spicer, a professor at the Cass School of Business at London's City University, also wrote a piece in The Telegraph explaining what happened and stating that with all the rules kids are constantly asked to follow, it can dampen their creativity and confidence. "At the same time as we supervise the joy out of childhood, many of the things which actually help our children thrive are disappearing. Councils have closed youth clubs and young people's services. Teachers spend more time ticking bureaucratic boxes than teaching kids. Parents are more interested in monitoring their social media feed than playing with their kids."
Can we just agree that if a little kid wants to take the initiative and set up a lemonade stand we should freaking let them? They can learn about business, money management, product quality, and the importance of good people skills. What exactly is wrong with any of that? Who are they hurting?
The Spicers story, luckily, has a happy ending. Local authorities have since cancelled the fine and apologized to the family. "We are very sorry that this has happened," a spokesperson for the local authorities told ITV News. "We expect our enforcement officers to show common sense, and to use their powers sensibly. This clearly did not happen."
Hopefully, with these stories hitting the news, the lemonade stand kill-joys will slow their roll and let kids be kids.
This article was originally published on