6-Year-Old Visibly, Heartbreakingly Traumatized In Reunion Video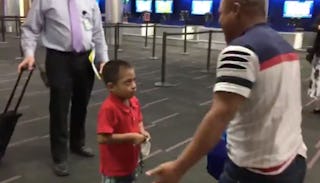 Image via Twitter/Esmeralda Bermudez
This video makes it clear that reuniting kids with their parents isn't the end of the child separation battle
46 days after they arrived at the U.S. border seeking asylum from violence in Guatemala, Hermelindo Che Coc and his six-year-old son, Jefferson, were reunited. But a heartbreaking video showing their first moments back together makes it clear that reuniting families is far from the end of the child separation battle.
The Los Angeles Times was there to document what should have been an emotional first meeting between Hermelindo and Jefferson. Instead, when they saw each other at the Los Angeles International Airport for the first time in nearly two months, Jefferson stood silent, his eyes vacant.
When they went to an airport lounge reserved for their reunion, Hermelindo noted that his son was thin, his eye was bruised and he had a rash covering his arms, stomach and back.
"This is not how I gave them my son," Hermelindo told the LA Times, crying. "My son has come back to me sick."
During the time he was separated from his father, Jefferson was held at the Cayuga Centers detention center in New York. For the first 26 days, Hermelindo had no contact with Jefferson, and no idea where he was. The first time they were allowed to speak on the phone, Jefferson tearfully admitted he thought his father was dead.
"Papa, I thought they killed you," he said through tears. "You separated from me. You don't love me anymore?"
Hermelindo and Jefferson would speak only two other times before being reunited. Hermelindo was told by case workers that Jefferson was well cared for and attending school, but his condition upon their reunion says otherwise.
Hermelindo and Jefferson fled their native Guatemala, leaving Jefferson's mother and two other children behind, in hopes of finding safety.
"People would get killed for no reason as they were going about their day," Hermelindo said of life in Guatemala. Without access to the internet or news, they had no idea of Donald Trump's zero-tolerance border control policy that would tear their family apart, even more than it was already, just for trying to find safety in the U.S.
Hermelindo told the LA Times that despite the constant fear that came with life in Guatemala, he wonders if Jefferson would have been better off staying there.
"He's the love of my life, my hero," he said. "We were so attached I couldn't imagine leaving him behind. [But] he's suffered so much, and I've suffered, too."
We've been warned for months about the psychological damage done to the thousands of children who were ripped away from their parents and locked in cages at border detention centers. Now, we're seeing the heartbreaking result of the child separation policy. It doesn't take a doctor to see that Jefferson has suffered immensely — the child was clearly traumatized. After being teased with the hope of finding safety in a new country and then kidnapped from his father, he will never be the same. One look in his eyes is all it takes to know that.
The Trump administration is now racing to meet a court deadline forcing them to reunite thousands of children with their families. At least they'll finally be reunited, but the damage is done. The world will not forget what we did.