Kids With Cash: Six Child Stars Who Had to Lawyer Up Against Mom and Dad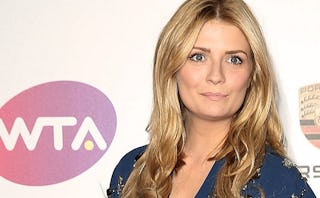 Quick! Somebody get Sandy Cohen on the phone! Former OC actress Mischa Barton is suing her mom, Nuala Barton, for allegedly withholding her earnings and stealing money to buy a $7.8 million Beverly Hills home, and then totally locking her out of it.
The lawsuit accuses Nuala of controlling Barton's earnings while only giving her an occasional "allowance," and even of lying about her earnings for one movie "so that she could pocket the difference—on top of her hefty management fee—all without Barton's knowledge."
While the whole thing sounds like an OC storyline, it's actually super-sad and, unfortunately, not the first time a child star has been forced to lawyer up. Here are five others:
Ariel Winter
The Modern Family star's mom was stripped of custody and any role in her daughter's career after 2012 allegations of physical and emotional abuse.
Winter's mother denied she slapped or called her daughter names, but a judge allowed the actress to live with her adult sister.
© Getty Images
LeAnn Rimes
In 1998 the singer sued her father and former co-manager in Texas, claiming the two were responsible for spending more than $7 million of her earnings. Her father countersued, the case was later settled and the two have since reconciled.
© Getty Images
Macaulay Culkin
Caught in the middle of his parents' custody battle, the Home Alone star sued his mother and father at age 15 in order to remove them as legal guardians in control of his $17 million fortune. The family's accountant was ultimately put in charge of his finances until he turned 18.
© REX USA
Leighton Meester
Leighton sent her mother $7,500 a month to help cover her brother's medical bills. But in 2011, when the Gossip Girl star discovered her mom was using the money for cosmetic procedures instead, Meester took her to court. Her mother allegedly threatened to sue her for $3 million if she didn't raise the monthly allowance to $10,000. The judge ruled in favor of the actress.
© Getty Images
Amanda Bynes
Hairspray star Amanda Bynes is no stranger to legal troubles. She's been arrested for both a DUI and possession of marijuana, among other things. And back when she was a teen, she sought legal emancipation from her parents before withdrawing her petition. Last year, the actress clashed with her parents over her hospitalization for mental illness, but her mother received conservatorship of her daughter once again last fall.
© Getty Images
This article was originally published on