3-Year-Old With Autism Kicked Out Of 'Finding Dory' For Acting Like A Kid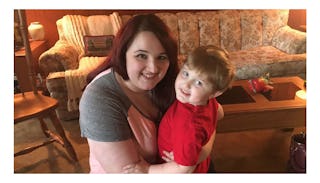 Why was a child with autism kicked out of 'Finding Dory' – a movie about special needs?
A young child with autism was asked to leave "Finding Dory" – a movie about special needs – for being too animated in the theater.
Jessica Matthews and her three-and-a-half-year-old son, Aiden, live in Issaquah, Washington, which is outside of Seattle. The pair went to see "Finding Dory" on Tuesday night but were asked to leave when the little boy had the audacity to behave like a child inside a movie for children. The manager at Regal Cinemas at Bellevue's Crossroads told Matthews the theater received complaints about Aiden, who was moving around and rolling on the floor, Kiro 7 reported.
"I just wish [the manager] would have been understanding that this was Aiden's first movie and that we were having a learning experience with his autism and how to control his behavior in an unusual situation for him," she told Scary Mommy. If you've ever been to the movies with a child – or met a child – then you know that they get excited and often show their emotions easily. Which is exactly what Aiden was doing.
It was his first time going to a movie, and he was thrilled. The little boy loves Dory, the breakout star of hit movie "Finding Nemo." Now, with her own full feature, Dory is helping teach people about disabilities. "A little more patience and just understanding can make a huge difference in the awareness of autism and other disabilities," Matthews shared.
It's cruel that a child with a disability was asked to leave the movie just because he was too animated for some people. What is so bad about a kid rolling around? I've sat through countless movies filled with asshole adults texting but an excited kid is unacceptable?
Matthews said she didn't think Aidan was disrupting the theater that was about half full. But the manager told her to control Aiden or leave. Excuse me while I laugh. The idea that kids can be easily controlled is ridiculous. They're people and sometimes they're going to do whatever the hell they want regardless of what their parents say or do. Parents shouldn't be expected to avoid all public places unless their kid behaves perfectly.
"I think that people should know that kids with autism are just that: kids. All kids struggle to sit down and be quiet," Matthews told us. "It just so happens that autistic children struggle more and need the exposure to learn what's appropriate and to learn what other typically developing children already understand."
Not everyone agrees, though. Several people who take their time watching a child's movie waaaaaay too seriously left some nasty comments online. "Autism isn't an excuse. Your child can do everything else another child can do. It's what YOU as a parent teach them. YOU are responsible for your kids," Angie Polinder wrote. "You could have always taken him to a drive-in movie theater or waited until it came out on DVD." Very few drive-in theaters still exist so that option is ridiculous. As is telling an excited kid to wait months to see the biggest children's movie to come out in years.
"We are told to expose our children to these situations and then we're embarrassed and ashamed when we're asked to leave because our developmentally challenged or disabled child is asked to leave," Matthews told Scary Mommy. Others, with a bit more understanding, defended Aiden and his mom online. "I am sorry this happened to this child. I have been in theaters with loud, rude, vulgar, adults. With ones who talk on cell phones, and they don't get kicked out," Robin Hooper wrote.
One woman left a positive message about her struggles, too. "I want to see Finding Dory too, Aiden! I too have a 'disability,' but I never let that stuff get me down," Victoria Vawter shared. "I work a full-time job, [using] heavy equipment and make good money. Don't let anything get you down."
If you're paying to see a movie that celebrates that people are all different, then you should probably avoid complaining about a kid when he acts differently. "We parents are trying so hard to raise wonderful children, regardless of what their diagnosis is," Matthews said. Next time you see a little kid having too much fun at a children's movie remember that comedies are all about that — having a good time.