This Is What I Learned By Watching My Child With A Speech Delay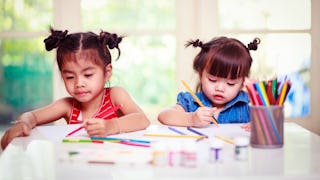 Busakorn Pongparnit / Getty
Nothing makes me more nervous than going to my daughter's preschool class and wondering how she will behave.
On the final day of preschool before winter break, families were invited to be a part of the Christmas party. I arrived for story and song time. The teacher, Ms. Lucy, was sitting on a chair, book in hand, while the kids surrounded her in a circle on the carpet.
That is, all of them, except my daughter.
I arrived to find her sitting on a chair behind all the other kids.
She was paying attention, listening attentively.
She was just at a distance, not in the thick of it.
The other teacher greeted me and reassuringly told me that my daughter, Charlotte, wasn't sitting in the chair because she was in trouble. Rather she chose to sit there on her own.
The thought that she could have been in trouble didn't even cross my mind.
Heck, I might have preferred she'd gotten in trouble somehow.
No, my fear at that moment, seeing her sitting by herself, was that she wasn't connecting with the other kids.
My fear is that because she can't talk she's being excluded by the others, not intentionally by any means, but by the simple fact that she communicates differently than the other kids. I worry that her speech delay keeps her from fully engaging with others.
When I found her sitting in the chair behind all the other kids I thought it was an apt metaphor for her speaking delay and where we are in her life right now.
I see her at school, or at church, or library storytime, and I see her behind.
Behind in talking.
Behind in telling us with words what she wants or needs.
During story time, another girl jumped up and looked out the window behind the teacher. Charlotte followed suit and I saw the backs of these two toddlers, on tippy toes, staring out the window.
I immediately felt self-conscious. I wondered if it was my job to ask Charlotte to sit back down. I was nervous. I kept wondering why she couldn't sit on the carpet like most of the other kids.
Ms. Lucy paused from reading the story and looked out the window too. I expected her to ask the two kids to go back and sit down.
But she smiled and said in delight: "Oh, everyone needs to see what's outside. Look what Charlotte and Sarah have found. Come and take a look!"
All the toddlers jumped up and rushed to the window. Charlotte was right there in the midst of them smiling and cheering.
And then she turned to me and signed the word cat.
That's what they all saw — a cat on a leash. Of course, everyone needed to see that sight!
I breathed a sigh of relief.
I let my worries get the best of me.
I allowed my insecurities to affect how I watched Charlotte.
And in the end, thanks to her teacher, I saw Charlotte move from sitting behind to having a front row view.
Perhaps she's not that different after all.
She's a strong-willed and independent girl.
Full of love and curiosity.
And not afraid to sit behind and observe, and not afraid to invite others to join in the fun.