Childcare Workers Are Quitting In Droves: The Real Labor Crisis
by Elizabeth Broadbent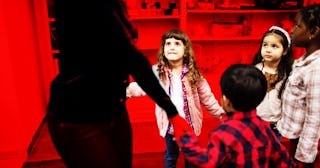 Scary Mommy and alvarez/Getty
People bitch about the high cost of daycare. This should shock exactly no one who pays for daycare, because daycare costs more than a year at a public university. Literally: one Boston mom profiled in Time pays more for her two-year-old's center-based childcare than she would spend on tuition and fees at the University of Massachusetts — and this was before Covid. Daycare costs can stagger a family with dual incomes, let alone single parents near the poverty line. And childcare workers? They're screwed.
Imagine a job in which you have to keep four to five toddlers from touching each other. You are constantly in danger of Covid exposure; you spend your time enforcing consequences while maximizing positive interaction, supervising potty time, feeding snacks, cleaning up, singing songs, and smiling, smiling, smiling. Breaks are very hard to come by. You must sanitize all the things, all the time.
You are paid $11.65 an hour, the median salary of a childcare worker in America. Even odds you'll get healthcare. A Dunkin' Donuts down the road starts at $14.
"The pay is absolute crap for what's required for the position," Tanzie Roberts told The Washington Post. A former childcare worker, she quit in June. "I can't afford to live on my own and work the child-care jobs that I am qualified for."
Many childcare workers are forced to take second jobs — even pre-pandemic, Deborah VanderGaast, the director of Tipton Adaptive Daycare in Tipton, Iowa, reported that ten of her fifteen workers needed another job to make ends meet.
Restaurant owners whine that they can't find employees. But staffing costs only account for 30% of their overhead. And America's economy can run without restaurants. Owners who want to stay open can raise worker compensation.
Daycares can't.
Daycares Can't Just … Raise Childcare Worker Salaries
It sounds simple: childcare workers need more compensation, so we should pay them more. In a fair market economy, that's what would happen. But daycares can't just raise costs. 57% of American families spent more than $10,000 on childcare last year, and 59% plan to do so in 2021. Average national cost per week for a toddler in a daycare center? A staggering $340. Families, on average, spend 13% of their income on daycare. In terms of salary, childcare workers rank in the bottom 2%.
This makes no sense until you realize that care costs. You want someone to smile at Payson all day, keep them from touching all the things, and sanitize them over and over? You have to pay them. But if you paid them what they were worth, you'd be paying them… well, The American Center for Progress estimates that in Iowa, pre-pandemic, the true cost for infant daycare was $25,863, compared to its pre-pandemic price of $9,967, because if Americans were forced to pay the true cost of infant care, our birth rate would come to a screeching halt.
Daycares already run on razor-thin margins. Childcare worker salaries account for 60%-80% of daycare costs, which — we can all agree — have already maxed out for many families. One study done during the pandemic found that staffing costs hit 80% of a daycare's budget, and that if they raise pay, they raise fees.
In the past year, a staggering 94% of parents report that they have cut daycare costs by reducing work hours, changing jobs, or leaving the workforce entirely. For many low-income parents, this isn't an option, and they're forced to turn to unlicensed in-home care, which can be dicey or downright dangerous. Scary stories abound.
If daycare centers raise salaries to attract more — or better — workers, they have to jack up prices. Full stop. But centers aren't looking for "better" workers: the number of childcare workers is down 126,700, more than 10% of prepandemic levels. They just want enough warm bodies to stay open.
And no one's willing to work so hard for so little. The median pay, according to the Labor Department, is below the poverty line for a family of four.
"I make $11 an hour and I'm exhausted," one worker texted The Washington Post on a break. "My credit cards are almost maxed out and my savings are dwindling. It's not looking good … I stay because I love the kiddos. It breaks my heart to think about having to find a new job."
Daycares Are Closing — With Dire Consequences
Diane Barber, executive director of the Pennsylvania Child Care Association, said it succinctly. "Parents are looking for child care, but now it's this Catch-22. We don't have the staff, so we can't open the classrooms, so families can't go back to work because they can't find child care."
Daycares must keep certain child-to-adult ratios, which vary from state to state. When they can't keep those ratios, centers must stop accepting more children — or close down entirely. Texas Klondike Academy, a center in Texarkana, closed down because it didn't have enough staff to keep running. "With the difficulties in the present labor pool, we just can't get the people we need to keep it running," said Pamela Reynolds, the interim director and one of the owners.
So they closed.
"I'm concerned my kids may not have a place to go," she said. "They are all short-staffed at present."
Many of her kids probably didn't have a place to go, and one wonders how many parents Texas Klondike Academy's closure left in the lurch.
1.8 million women have ghosted the workforce since the pandemic's start, and while there are complicated factors at play, childcare is one of them.
We Need More Subsidies
While part of America's Rescue Plan included 39 billion for childcare relief, most of it for struggling centers, only 14 states have marshaled enough — energy? time? effort? — for providers to apply for funds. And make no mistake: this is a short-term fix. It wouldn't actually raise pay, and therefore wouldn't do a damn thing other than buy some PPE and maybe stave off disaster for a few more months.
We can't lose our childcare workers to McDonald's and Wal-Mart. Kids need consistent, stable caregivers — especially low-income kids, who already have enough factors working against them. If we compensated childcare workers at the rate we compensate kindergarten teachers — including health and retirement benefits — we'd assure the quality of care our kids need during their most crucial development. Jordyn Rossignol, owner of Miss Jordyn's Child Development Center in rural Caribou, Maine, told The Washington Post, "We need significant public investment to stay open. The days of only surviving off tuition from parents and off the backs of working families is done."
Biden wants to address this by dropping 450 billion on childcare: it would "reduce costs for lower- and middle- income families," "offer higher wages to caregivers," and "provide free kindergarten for 3- and 4-year-olds."
But even some Democrats aren't here for it. Sen. Joe Manchin III from West Virginia, who one can only assume has never had children in daycare or a family member work in a licensed daycare center, said, "It's not the federal government's responsibility to educate all our children."
Then whose responsibility is it, Joe? Freaking Sesame Street's? Oh, wait. They're federally subsidized.
Maybe we should leave it up to Spongebob. These days, with parents scrambling to work from home while providing childcare, we probably are.
This article was originally published on