How You Can Support Childhood Cancer Awareness Month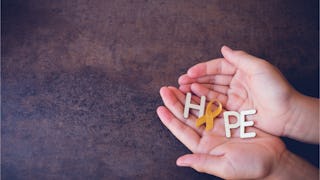 Sew Cream / Shutterstock
There is nothing that strikes fear in a parent more than hearing the word "cancer" in relation to their child. But for the parents of 175,000 children under 14 years old annually, childhood cancers are a reality that these families live with daily. According to St. Jude Children's Research Hospital, cancer is the leading cause of death by disease past infancy for U.S. children.
Read that again: Cancer is the leading cause of death by disease past infancy for American children.
And while we live in a day and age where more than 80% of children diagnosed with cancer become long-term survivors, the other children diagnosed with cancer are not so fortunate.
When a child is diagnosed with cancer, the entire family feels the blow. Parents are often forced to take extended leaves from their jobs to stay at their child's bedside and siblings are affected by stress, fear, and a disruption of their daily lives too. Everyday life suddenly and unexpectedly revolves around tests, cancer treatments, and procedures. Families are sometimes even forced to travel great distances for cancer care, and often, it can be months at a time where families are separated while a child receives treatment.
Adding insult to injury, childhood cancer research is severely underfunded. The majority of government funding for childhood cancer comes from the National Cancer Institute.
According to research compiled by the website I Care, I Cure, the National Cancer Institute (NCI) budget was $4.93 billion in 2015. It is anticipated that childhood cancer received 4% of that sum or $198 million. Many cancer research institutions and charities are forced to rely on donations and private fundraising efforts to continue doing lifesaving childhood cancer research.
We have to do more — so much more because no child deserves to die of a childhood cancer simply because research is lacking.
September is Childhood Cancer Awareness Month, and there are many ways you can do your part to show your support for the families who are dealing with the unimaginable.
Luckily, there are some amazing foundations and hospitals that have made it their mission to eradicate childhood cancer. But they need our help in the form of donations and social media support. We can all do our part to help support these worthy charities because every child with cancer deserves a positive outcome. Here are just a few:
Located in Memphis, St. Jude was founded by actor Danny Thomas in 1962. As the story goes, Thomas couldn't afford to pay the hospital bill for the birth of his daughter. He prayed to St. Jude, the patron saint of lost causes, and promised that if St. Jude helped him find the money to pay his bill he'd dedicate his life to making sure parents would never have to worry about paying hospital bills for their sick children. He made good on his word too; the hospital opened in 1962, and they treat 8,000 children annually free of charge, thanks to donations made from around the world. The staff at St. Jude works tirelessly to make sure "no child dies in the dawn of life."
Alexandra Scott was born in 1996 and was diagnosed with neuroblastoma just before her 1st birthday. In the eight years she battled her childhood cancer, she selflessly raised money for other children with cancer by hosting lemonade stands in her front yard. Her simple idea led to people around the world hosting lemonade stands all in the name of childhood cancer. Alex raised a million dollars in her short time on earth, and today, Alex's Lemonade Stand has raised over $150 million for childhood cancer and has funded more than 800 research projects at more than 135 institutions.
Some childhood cancers have treatment protocols that can take up to two years until a child is in remission. As such, families often find themselves struggling to stay near their child during treatment. RMHC offers families low-cost housing near their child's hospital, meeting rooms in hospitals where families can meet and regroup, mobile health care for families who have a hospitalized child, and grants for cancer research.
Even if you can't donate money, you can donate time to these worthy charities. St. Jude holds events around the country yearly, and they need volunteers to help staff events. You can host your own Alex's Lemonade Stand (find out how here) and Ronald McDonald Houses collect soda can tabs as a means of raising money via aluminum recycling. Get your kids to start putting soda tabs in a jar that you can drop off at your nearest RMH.
And all of these charities benefit when you post on social media that you've donated to their efforts. So tell your friends how and when you donate because it makes it easier for them to follow suit.
Every little bit counts, and parents of children with cancer desperately need your help all year long.
Donation to cancer charities is a personal decision, and it can be tricky to find the right charity for your fundraising dollars. Watchdog sites like Charity Watch monitor a charity's donation record and fundraising efforts and can help you decide how best to donate.
This article was originally published on