Childish Gambino Surprised Chicago High School Seniors And Their Reaction Is Pure Joy
by Christina Marfice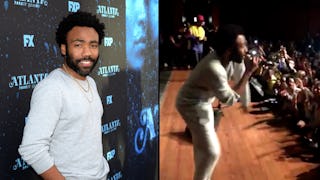 Image via Photo by Kevin Winter/Getty Images / CK FM / Twitter
We need as much joy in the world as Childish Gambino brought to these kids
Music just has so much power — and kids need music as much as anyone. It gives them an outlet for their struggles and their creativity. It gives them a way to express themselves positively. In artists, gives them role models to look up to. Anyone who brings kids and music together is doing some great work. And as of this week, that includes Donald Glover, a.k.a. Childish Gambino.
Glover gave a surprise performance to graduating seniors in Chicago at the Harold Washington Library Center, basically making their day forever. The videos are everything. I'm not crying; you're crying.
Seriously, those kids are losing their shit. And they should, because this is wildly cool.
The performance was a surprise for the kids. It took place at Open Mike Chicago, a regular event hosted in the city by Chance the Rapper. It's put on in partnership with Chicago's library system, and it's meant to be a talent show that gives kids a safe space to exercise their own creative talents. But with Chance the Rapper at the helm, he's able to leverage his celebrity to bring some special guests by now and then. Last year, Dave Chappelle made an appearance. In 2015, Kanye West surprised the kids who were there.
The kids in the audience had no idea what was going to happen, but in the video, you can see them hear the first few bars of Glover's new single "This Is America," and go nuts. Can you even imagine being in that audience at that moment?
Glover's no stranger to making kids happy, what, with his adorable meet-up with the Girl Scout who sold her cookies by reworking the lyrics to his 2016 hit "Redbone." But this concert was next-level fantastic.
Monday's Open Mike Chicago was a special graduation event, which meant the kids in attendance were graduating seniors. From the videos, it's clear they had an amazing time, and that this was an incredible surprise for them to celebrate their graduation.
This article was originally published on