The Majority Of Children Dying From COVID-19 Are Children Of Color
by Cassandra Stone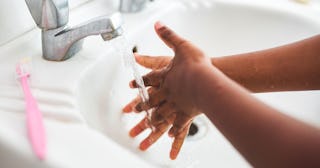 Moyo Studio/Getty
A troubling new report from the CDC shows a staggering racial disparity in COVID-related deaths in children
According to new data from the Centers for Disease Control and Prevention, children and young adults of color are dying from the coronavirus pandemic at a much higher rate than their white counterparts. In nearly 400,000 COVID-19 cases and 121 adolescent, pandemic-related deaths, over 78% of the children who died were children of color.
CDC researchers analyzed deaths in people under 21 years of age that were reported between February 12 and July 31, which showed that minority youth are more affected by the pandemic. In the CDC's weekly morbidity and mortality report, 45% of the children who died were Hispanic, 29% were Black, and 4% were American Indian or Native Alaskan. A large portion of those deaths occurred in young adults aged 18-20 — college-aged students.
"It's heartbreaking," says Dr. Preeti Malani, an infectious disease specialist at the University of Michigan, told NPR. "The 121 deaths are a tiny fraction of the more than 190,000 deaths that have been reported in the United States. But for a long time, it was believed that children didn't die from this."
The racial disparity of those diagnosed with COVID-19 goes beyond children — the CDC data shows adults of color under the age of 65 are dying at twice the rate of white people in the same subset. CBS News reports that during the peak of the outbreak in late March, Black and Hispanic individuals made up one-third of hospitalized individuals.
The CDC report states that a majority of deaths occurred after the children of color were admitted to the hospital, but 39 children died at home or in the emergency room. Disparities in socioeconomics of Black, Hispanic, and Indigenous families likely play a role. The CDC report sheds light on these determinants, suggesting crowded living conditions, food and housing insecurity, wealth and educational gaps, and racial discrimination are all contributing factors in racial health inequality in the U.S.
With schools across the U.S. up and running for the 2020-21 school year, Malani tells NPR that the risk of exposure and infection in children will likely rise.
"What we really need to understand is why each of these 121 children died," Malani says. "We need to really dig into that and come up with ways to make sure this doesn't happen." He suggests seeking medical treatment at the onset of any symptoms whatsoever in your child and taking all potential illnesses seriously.
"Make sure your child can be seen by a doctor or taken to the hospital," she says. "If you can't take your child to the hospital yourself, make a plan for somebody else in your social circle that can help you."