15 Children's Books To Celebrate Black History Month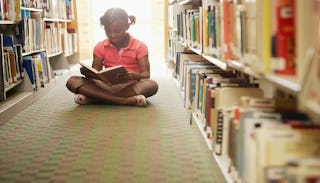 FangXiaNuo / iStock
Black History Month offers the chance to explore and reflect on the experiences, struggles, and achievements of African-Americans, and what better way to share that history with your children than through the lens of a great book? Whether it's tales of the amazing feats of abolitionists, athletes, civil rights freedom fighters, or scientists, this collection of both picture and chapter books will help pave the way for spirited discussion between you and your child about the importance of our nation's African-American history.
Authored by basketball superstar Kareem Abdul-Jabbar, this book tells the story of many lesser-known African-American inventors, and their amazing inventions that have improved the lives of millions. Funny quips and facts make this nonfiction title very readable for grades 3 to 7.
Meet Audrey Faye Hendricks, the youngest child to be arrested in a civil protest in 1963 Birmingham, Alabama, and learn about the courage and fortitude this little girl possessed while being jailed for her cause. Enchanting digital collage illustrations make this ideal for grades K through 5.
In advance of the soon to be released movie of the same title, this chapter book for grades 8 and up is riveting, honest, and powerfully tells the story of the marriage of Richard and Mildred Loving, and their fight against interracial marriage laws — all the way to the Supreme Court.
Ever heard of Ann Cole Lowe? She was an African-American fashion designer who designed dresses for Jackie Kennedy and Academy Award winner Olivia de Havilland. Forced to study in a segregated fashion class, she persevered and became an icon in the fashion industry. Recommended for preschool through grade 3.
This book brings to life the stories of Dorothy Vaughan, Mary Jackson, Katherine Johnson, and Christine Darden, four African-American women who lived through the Civil Rights Era, and went on to find great success at NASA. It is a perfect introduction for middle-grade readers to the topics of gender roles, prejudice, and scientific exploration.
This is a not-to-be missed story of Ruby Bridges, the first African-American child to attend a New Orleans elementary school after court-ordered desegregation in 1960. It is a very moving version that illustrates the bravery and fortitude of both Ruby and her first-grade teacher. Dynamic watercolor illustrations set the perfect backdrop. Recommended for preschool through grade 3.
If you're introducing your child to the history of slavery, start with this book. Henry's story of his escape from slavery in a mailing crate is awe-inspiring. Written for the younger set, it doesn't dilute slavery yet talks about it honestly and inventively. Recommended for preschool through grade 3.
The multi-award-winning book is a must-have in your home library and tells the story of Fannie Lou Hamer, a champion of equal voting rights and a speaker at the 1964 Democratic Convention. Gorgeous mixed media art also won this title illustration awards. Recommended for grades 4 to 7.
Jacqueline Woodson's National Book Award and Newbery Medal winner, Brown Girl should be on all mandatory reading lists for grades 5 and up. A mesmerizing memoir told in verse, these poems recount the experiences of growing up black and female in the 1960s and '70s.
With 28 brief descriptions of crucial people and events in black history, ranging from 1770 to the present, this title is a fresh take and offers untold stories you may have not heard. It provides a general overview and solid introduction to Black History Month for preschool through grade 5.
Including portraits of 10 female African-American freedom fighters and activists and their accomplishments, this comprehensive collection of bios should be on every school and public library shelf. Exquisite paintings and illustrations round out this gem. Recommended for grades 1 to 4.
An illustrated edition of Langston Hughes's classic poem and the winner of the Coretta Scott King illustrator award, this is the perfect picture book for young readers learning about Hughes. Recommended for preschool through grade 3.
Author Paula Young Shelton grew up the daughter of famed civil rights leader Andrew Young, and here she tells the story of her childhood in racially charged America. Bringing history alive through her childhood memories, this title easily explains to smaller children what it was like to live through social injustice and prejudice. Recommended for preschool through grade 3.
14. I Have a Dream by Martin Luther King Jr.
A multi-award winning title and your first go-to book on anything MLK for young readers, this also includes a CD recording of the "I Have a Dream" speech. Featuring gorgeous, breathtaking oil paintings of Dr. King, this standout title will engage young readers and is the perfect introduction to the Civil Rights Movement for grades K through 12.
Althea Gibson was the first African-American female to play (and win) at Wimbledon, having learned to play tennis on the streets of Harlem. This is the spirited story of a little girl and tomboy at heart, and her athletic dreams will please and inspire young athletic girls of color.
Editors may receive samples and/or a share from purchases made via links on this page.
This article was originally published on