12 Read Aloud Books That Are Perfect For Story Time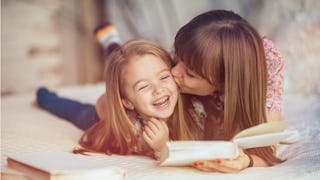 Sergiu Birca / Shutterstock
Reading with your kids gives you both a chance to bond over a mutual love of characters and stories. If you're like me, you've looked forward to the day when you could work your way through a chapter book together. A chapter before bed, where instead of looking at the pictures, they use their imagination to envision the story and what comes next. It's awesome.
If you're looking for some great read-aloud books to go through chapter by chapter with your child, we have some great suggestions, both old and new.
Anne with an E. The classic tale of a young girl with a big spirit and the gift of gab in a new town. She doesn't quite fit, but it's not stopping her from making friends and having adventures.
The newest series from Dave Pilkey of Captain Underpants fame (maybe you've heard of it?) is another graphic novel starring a quirky superhero. Pilkey actually created Dog Man when he was a kid and includes instructive panels for drawing characters to encourage readers to pick up a pen and get their artist on. These books follow Dog Man as he fights crime while trying be more man than dog and are full of the silliness kids have come to love from Pilkey.
Have tissues handy. After Wilbur, a happy and playful pig, meets a spider named Charlotte, the two become fast friends. In Charlotte's quest to save Wilbur from winding up a side of bacon, she spins webs with words about her friend, leading their town to believe he is not simply "some pig."
The Harry Potter books are a duh on everyone's list for getting kids engaged in reading. But this edition is illustrated, and the others in the series get an illustrated version every year. Using this book to introduce your child to Potter and his friends puts the wizarding world right before their eyes.
I could really suggest anything by Roald Dahl, but I'll go with my favorite. Matilda is raised by unkind parents, often left to fend for herself, and incredibly gifted. She excels at school and has a hunger for knowledge before discovering she possesses unexpected special gifts.
The final book in Chris Colfer's six-book Land of Stories series brings the adventures of twins Alex and Connor to a close. These books take kids into a world where the twins meet characters from fairy tales we all grew up reading and loving. As they make friends and do battle, they go on adventures and wind up more entangled than they expected in a world they never even knew existed.
Stanley Yelnats is a victim of mistaken identity. He is convicted of a crime and sent to a juvenile detention camp where all the boys dig holes in the blistering sun to build character. Soon, Stanley and his fellow campers discover there may be more to the holes they're digging than they thought.
This is basically every kid's dream. Jack and Annie find a magical treehouse in the woods. Inside, they can travel back in time to see dinosaurs, pirates, the pyramids, and more.
Shel Silverstein's book of poems, some sweet, some absurd, and often both, is a perfect introduction to the genre. It won't be long before your kids are memorizing their favorites.
When the Little family meets their newly adopted baby, they're mildly surprised to find an adolescent mouse instead. They roll with it, making him miniature mouse things like a suit or a bed as he goes from adventure to adventure as a tiny mouse in a big city.
A sweet graphic novel about a strong young girl who finds a robot to befriend. They love to play, but he needs protecting when he wants to go off with the bad robots and leave the girl behind.
The real story of pioneer Laura's childhood. These books follow Laura and her family as they settle in the prairie, all the way up through getting married and having her own baby.
Grab a comfy spot on the couch, turn off the TV, and spend some time getting lost in a book with your kids.
This post contains affiliate links, which means we receive a small portion of the sale if you make a purchase using these links.