Group Of Girlfriends Buy A Giant House So They Can Retire And Live Together
by Christina Marfice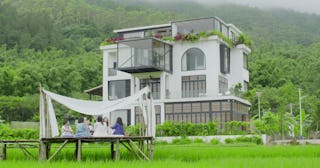 一条/Youtube
These 7 Chinese girlfriends are about to be your BFF goals
What if, in our golden years, we could just completely forego men, gather up our best girlfriends, buy and renovate a gorgeous house, and live together happily for the rest of our days? It's the dream, right? Who needs a husband when you have a girl squad that awesome? Get ready to be jealous AF, because a group of girlfriends from China are going viral for doing this, and they are, frankly, an inspiration. They are the real-life Golden Girls.
RELATED: 30 Golden Retirement Gifts To Celebrate Their Golden Years
A viral video tells the story about how the seven besties found a 7,500-square foot home in the Chinese countryside, pooled their money to buy and renovate it, and now plan to live there together for the rest of their years. Their happiest years, obviously, because how could they possibly not be?
The renovated home is absolutely beautiful, with large, open common spaces, and upstairs bedrooms for each of the women so everyone has some private space.
What might be even more beautiful is the home's setting. It's surrounded by rice paddies and forest, and looks serene and like the most fabulous place to live out your best years with your best friends. Like, can you imagine sitting here and having your morning coffee along with all of your besties? This is literally the dream life.
Much of the furniture was imported from India and Morocco because these ladies have the most fabulous taste. And in what is probably the most adorable part of this adorable story, all of the friends love tea, so they built a tea pavilion on the property that they can reach via a wooden boardwalk. They go out there to have tea and snacks and sing together, and are you dying of jealousy yet for this life? Because I am.
In the video, the ladies explain that while their serene, perfect home is pretty secluded, they can reach the nearest town in about an hour. They go there to shop and sing.
And to make sure the household stays perfect and harmonious, the ladies have all agreed to learn a skill they can use to contribute to the home before they move in. Someone is learning cooking, someone is learning to grow vegetables, and someone is learning the basics of Chinese medicine.
Just look at these happy besties and try not to imagine you and your BFFs in their place. Oh, wait, you can't do it because this is the dream.
We all know how hard it is to be separated from your best friends. These Chinese girlfriends aren't the first people to come up with a solution like this — remember the squad in Texas who built "Bestie Row" so they could all live near each other? This is like that, except even better. BRB, searching Zillow for the perfect mountain ranch home to split with my besties.
This article was originally published on