Target Revealed All Of Chip And Joanna's New Home Line And We're In Love
by Christina Marfice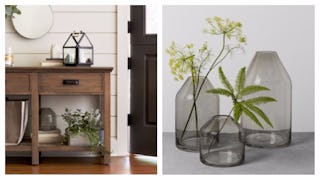 Image via Target
Ever wanted HGTV-inspired home decor? Target is here for that
Bless Target, and praise hands for HGTV's home remodeling super couple, Chip and Joanna Gaines, for making all our dreams come true. Now that the couple has probably renovated every house in their native Waco, Texas, they're on to new projects, like their upcoming home decor line that will be available at Target beginning Nov. 5.
Everything in this line is cozy and perfectly rustic, and you're going to want to do some serious winter redecorating once you see it. Best of all, you can do it at Target prices, so it's not going to break the bank.
The entire Hearth & Hand with Magnolia collection features dark metals, wood accents and plaids and linens, giving it a very cozy feel that will make any home warm, comfortable and inviting. And the vast majority of pieces in the collection cost less than $50. It's OK — take a moment and get excited. You still have a week before the line drops and you need to get shopping.
To help you prepare before the line becomes officially available, here are just a few of our favorites.
How perfect is this textured stoneware pitcher ($21)? Can't you just see yourself using it to serve tea to guests on the porch while you watch the leaves turn on the last nice fall days? Assuming your toddler doesn't tug it off the countertop and smash it on the floor, but we can dream.
Now, take that scene, and add in this perfect gold-accented serving tray ($30).
When the guests have gone home and it's time to peruse your bookshelves for something to curl up on the couch and read, you just know these adorable goat bookends ($20) will take your bookshelf to the next whimsical level.
And curling up with that book will absolutely require a blanket, like this perfectly cozy woven throw — with tassels ($30)!
And while you're at it, go ahead and pick up the matching throw pillow ($25), because honestly, what's the point in having half of this perfect set without the other?
Since it's basically illegal to walk out of Target without throw pillows in your cart, maybe grab a few more to mix and match. How about this cute green plaid pillow ($25) that will subtly match the tassels on your blanket?
When it's time to head for the kitchen, stay on theme with a green plaid apron ($16) that will keep your cozy sweaters free of any kitchen mess.
And don't even think about setting the table without these precious "gather" embossed brass napkin rings ($3 each).
After dinner, spend family time in some matching plaid pajamas ($13-25), because what else would you do on a chilly, late fall evening?
Not even the family dog gets left out, with a matching plaid dog bed ($30) that I am honestly in love with.
The line even includes toys that are sure to top any kid's holiday wish list, like a three-story wooden dollhouse ($130):
Or a wooden tool bench ($100) for kids who plan to be future fixer-uppers, like the Gaineses.
There are exactly 10 days until this collection becomes available to buy. We have a feeling some items might go out of stock pretty quickly, so have that ordering finger ready to click "add to cart" as quickly as possible.
This article was originally published on