Congress Let A Program That Insures 9 Million Kids Expire This Weekend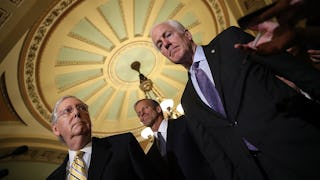 Image via Win McNamee/Getty Images
CHIP funding expired this weekend
While attention has been on what is happening with Congress' most recent attempt (and fail) to repeal and replace Obamacare under the Graham-Cassidy plan, another equally critical health insurance program is in major jeopardy.
As of September 30, the Children's Health Insurance Program (CHIP) is not approved to run as its spending authorization has expired, the first time in more than ten years.
According to the Healthcare.gov website, CHIP provides "low-cost health coverage to children in families that earn too much money to qualify for Medicaid," and also covers pregnant women in some states. Every state works with their Medicaid program to offer CHIP for all its residents and approximately nine million kids in the US are covered by CHIP.
Technically the money doesn't run out on October first — but there is currently no vote scheduled to restore the $15 billion in funding for at minimum a week, according to the Los Angeles Times, and most states will have few budget dollars left to keep a program going that has almost eliminated uninsuranced kids in this country.
"We have never had a situation like this before," Joan Alker, executive director of Georgetown University's Center for Children and Families, said in a press briefing. Though most states will have money left over to keep CHIP going minimally for the next few months, they are preparing contingency plans as most kids on CHIP will eventually become uninsured if nothing is done.
CHIP covers everything from checkups, immunizations, emergency services, and other preventative healthcare service that help keep millions of children safe and healthy. To put this a little clearer, kids under this program will be unable to see a doctor for annual checkups, immunizations, illness and other services.
If CHIP gets its funding back, it would be extended for five years but the program could run out as soon as December in states like including Arizona, Minnesota, and North Carolina and the District of Columbia.
So what can we do to help? Well, it's time to get back on the phone and call our state representatives immediately, because with the lapse in funding state officials are already sending out notices warning CHIP enrollees that their coverage has lapsed.
"Is there any more poignant example of how Congress' wasteful partisanship affects ordinary Americans? It's hard to imagine one," writes Michael Hiltzik, reporter for the LA Times. "If the lawmakers can't act in support of a program that was enacted in a spirit of bipartisanship and serves the most truly defenseless members of society, there's no hope for them."