Calling All Shiplap Lovers: Chip And Jo Have A Magazine Now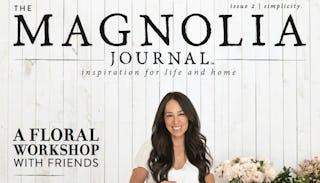 Meredith
Yes, you read that right.
Print is not dead because Chip and Jo are bringing it back — fixer-upper style. It's a quarterly magazine, and more of a coffee table book than your standard monthly fare. High-quality photos, rustic, beautiful illustrations, recipes that you will actually use, and of course enough design inspiration to keep us busy until double farmhouse sinks go out of style (which is never).
This is a magazine you will want to keep or pass along to a fellow HGTV lover.
You can snag a yearly subscription for $20, or you can go the safe route and just opt for the two years for $30 because we all know the Magnolia empire will still be inspiring us in 2019.
This post contains affiliate links, which means we receive a small portion of the sale if you make a purchase using this link.
This article was originally published on