Chip And Joanna Welcome 5th Child!
by Cassandra Stone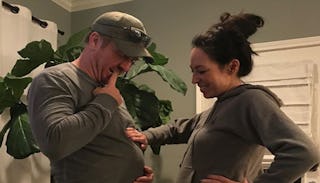 Image via Instagram/Chip Gaines
The newest member of the Gaines family is here!
It's a boy! Chip Gaines had the honor of officially announcing the birth of his fifth child with wife Joanna this morning.
The Fixer Upper star was surely feeling every bit of the proud papa when he took to Twitter to share the couple's happy news.
"10 beautiful toes and 10 beautiful fingers all accounted for, and big momma is doing great," he shares. Not sure how any new mom fresh from the delivery room would feel about the "big momma" portion of this message, but the couple's humor is just one of the many reasons we love them.
The new addition — no name has been revealed yet — joins siblings Emmie Kay, 8, Duke, 9, Ella, 11, and Drake, 13. The couple first announced they were expecting baby number five last fall.
And boy, have we loved watching this latest Gaines chapter unfold before our eyes. Of course, the baby shower held last week was just as cute as you'd expect.
Joanna recently told PEOPLE that when she was pregnant the previous four times, it was mostly a blur because she had her children so close in age. "I had four kids aged four and under," she says. "There were so many diapers, and it was chaos. Those years just flew because there was so much happening in the moment. I feel like I can really take this one in and relish these moments."
Personally, I'm excited to hear the name they've chosen and see a photo because SQUEE, newborns, amirite? But mostly I can't wait to see how Joanna has designed the nursery. I'm sure it'll be replicated in nurseries all over the country faster than you can say "shiplap."
Congrats to the entire Gaines family!