Chip And Joanna Gaines Fined By EPA For Lead Paint Violations
by Julie Scagell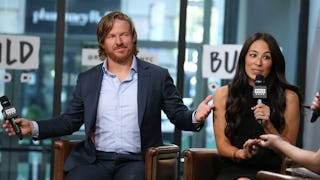 Image via Getty Images/Rob Kim
Magnolia Homes will pay $40,000 in fines
Chip and Joanna Gaines, stars of the hit HGTV show Fixer Upper, were fined by the Environmental Protection Agency (EPA) for violating federal regulations for mishandling lead-based paint in dozens of home renovations featured on the show.
The couple's company, Magnolia Homes, has settled with the agency for, among other things, a $40,000 fine. They broke the EPA's rules for lead paint removal during renovations — breaking the Residential Property Renovation Rule, implemented under the Toxic Substances Control Act.
The organization reviewed footage from several seasons of Fixer Upper and found the couple "did not depict the lead-safe work practices normally required," according to a statement on EPA's website. They also noted "activities of Magnolia and similar renovation firms came to EPA's attention from their depiction on popular television shows. Magnolia's renovations were depicted on the HGTV series 'Fixer Upper' and regularly viewed by well over 3 million households."
The EPA stated Magnolia Homes violated statutes to minimize risks from lead paint exposure, didn't properly cover floors and vents with plastic to capture paint chips, and violated regulations set up for homes built before 1978.
Fixer Upper began airing in 2013 and just recently wrapped up their show's finale, becoming one of the most successful shows in HGTV's history. In total, the couple has renovated over 100 homes during the shows five seasons and has enjoyed other spinoffs from their brand. This includes partnering with Target, Magnolia House restaurant, a cookbook, a magazine, and a new spinoff airing on HGTV this year.
And while the couple and soon-to-be parents of five haven't admitted to the allegations, they've agreed to pay the $40,000 in civil fines — an outcome that could've cost the Gaines well over half a million dollars, The Hill reported. They also demonstrated how to properly remove lead paint in an episode that aired earlier this year as well as spent an additional $160,000 on a lead-paint abatement program for homes and child-occupied facilities in and around Waco.
"Through this settlement, Magnolia is putting in place safeguards to ensure the safety of its renovation work and making meaningful contributions toward the protection of children and vulnerable communities from exposure to lead-based paint," Susan Bodine, head of enforcement at the EPA, said in the statement.
Even small amounts of lead exposure can cause health problems and for kids under six years of age can severely affect mental and physical development. At very high levels, lead poisoning can be fatal, the Mayo Clinic reported.
This article was originally published on