Chip And Joanna Gaines Are Expecting Baby Number 5!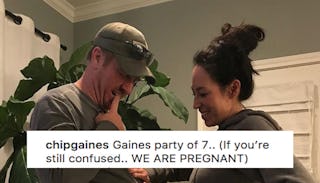 Image via Instagram/Chip Gaines
The 'Fixer Upper' couple hinted last year that they were looking to expand their family
Chip Gaines took to Instagram last night with some pretty huge news — no, there won't be another even more amazingly cute and affordable Magnolia Home line at Target — better. The couple are expecting their fifth child, and I think I'm more excited than they are.
If you're an eagle-eyed Fixer Upper devotee, you'd know that Chip (and Joanna) sometimes chant "number five…". They're referring to a fifth child, and apparently, they both got on board at some point in the last few months. Chip teased the news in tweets during last night's season five premiere before doing the big reveal on Instagram.
They shared the huge announcement in a super cute photo of the pair comparing baby bumps, although Chip's is probably just tacos. Joanna is, of course, completely gorgeous and glowing. The caption reads, "Gaines party of 7.. (If you're still confused.. WE ARE PREGNANT)"
Chip even got a little bit adorably TMI in sharing how the seventh member of the Gaines family came to be.
A romantic concert, happy parents on a date night, boom. Baby on the way. The couple's four kids, Drake, 12, Ella, 11, Duke, nine, and Emmie Kay, seven, are probably thrilled with the news if Joanna's past comments are any indication. Back in June, she told People, "I would love another baby — or twins! The kids are always asking me, 'Mom, can you have another baby?' But Chip thinks we're done."
Nope. Not quite.
And last November, Chip also made no mystery of his desire to expand their family. "We had four babies right before the show started, and then we've had zero babies since the show started," he told Houston's KTRK News. "For me, I'm really excited to go back and try to maybe . . . try to make some more babies."
We probably should've seen this coming, because aside from hints in interviews, Joanna's recent Instagram stories have shown her baking up a storm and sorting her kids' baby clothes. Obviously she was feeling a certain type of way.
Last night's premiere episode was even appropriately baby-themed. It featured the Gaines' helping Joanna's younger sister and her husband fix up a home in Waco, and mid-renovation, it was announced that the couple were expecting a sixth child. Something tells me the 2018 Gaines family Christmas will be a crowded and happy one.
Now that the show is wrapping up its final season, we won't have the chance to watch Baby Gaines grow up, so let's hope Joanna keeps up with her Instagram.
Because we need to see that nursery so badly it hurts.
This article was originally published on