Chip And Joanna Give St. Jude's Target House The Best 'Fixer Upper' Ever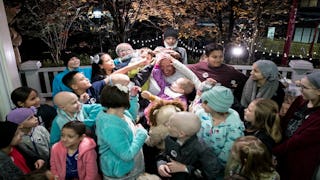 Courtesy St. Jude
When HGTV network design stars and Fixer Upper gurus Chip and Joanna Gaines offer to remodel your dining room, you simply don't say no, especially when said dining room is located in the Target House, the long-term family-living facility that houses children who are fighting cancer at St. Jude Children's Research Hospital and their families. Then you really can't say no.
That's exactly what happened this last week, as Chip and Joanna Gaines unveiled to the families of Target House a newly remodeled dining space. The Target House, one of three housing facilities at St. Jude, boasts apartment style living and serves as a home away from home for patients being treated at the world renowned research hospital along with their families. There is no cost for families to live there while receiving treatment at St. Jude, and for some, that can be for as long as two years.
Target House, which opened in 1999, was in need of a dining area makeover, and that's where Chip and Joanna came in. As part of their new retail partnership with Target stores, they worked their magic on the community-style dining space, and the big reveal came last week.
Patients and their families got the chance to celebrate the official opening of their new dining space with a family dinner joined by the Gaines, special arts and crafts, and a highly anticipated "haircut." Prior to coming to St. Jude, a very shaggy-haired Chip challenged his fans and followers to donate to St. Jude, with the promise of a "buzz" if the amount raised exceeded his expectations. He put a call out on Instagram, stating, "The more money we raise over the next FOUR days, the shorter my hair goes — That's a promise. And, who knows, maybe if you really exceed my expectations…I'll buzz it all off."
Called #OperationHaircut, fans reacted generously and did not disappoint, giving to St. Jude to the tune of $230,092 in only four days. Chip unveiled his new bald dome to a group of admiring St. Jude patients, all eager to rub his head in camaraderie and laughter.
The impact St. Jude patients and their families had on Joanna was expressed by her in a heartfelt Facebook post. She stated, "We are leaving Memphis changed. Kiddos of St. Jude Children's Research Hospital we go with your faces on our minds and your stories in our hearts. Thank you for letting us be a part of your home at Target House. We are cheering you on every step of the way."
St. Jude Children's Research Hospital is transforming the way the world understands, treats, and defeats childhood cancer, sickle cell disease, and other catastrophic diseases. Consistent with the mission its founder Danny Thomas created, no family ever receives a bill for treatment, travel, housing, or food. For families having to undergo long term treatment such as a bone marrow transplant, the ability to live rent free at the Target House means the world and provides much-needed financial relief to those having to deal with a much bigger fight: the one to save their child's life. And now thanks to a couple of famous Fixer Uppers, those families can dine like stars in their fancy new digs (and we can all enjoy a clean-cut Chip!).
For more information on how you can join the fight against childhood cancer, visit St. Jude. Also, this holiday season make sure to look for the St. Jude logo where you shop and dine, and donate right at the register to support the hospital's Thanks and Giving campaign.