Chip And Joanna Gaines Announce That They're Opening A Hotel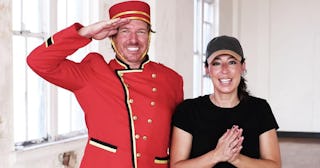 Magnolia/Youtube
'Fixer Upper' stars Chip and Joanna Gaines plan to open the hotel in 2021
If you are lovers of Chip and Joanna Gaines and all things Fixer Upper, the couple known for turning run-down dwellings into actual dream homes, is giving fans one more reason to visit their hometown of Waco — they're opening a boutique hotel.
The Gaines family hasn't slowed down since they called it quits on HGTV's Fixer Upper. They have a market, restaurant, home goods (including a line at everyone's favorite Target), books, an upcoming coffee shop, and if that's not enough — an entire TV network. Oh, and they recently had their fifth child, a boy named Crew, to top off an already crazy schedule. But now the power couple is adding one more addition to the list — a hotel just blocks from Magnolia Market.
The video they posted to their website offers a glimpse of what the warehouse looks like today and gives fans an idea of the space they'll have to work with, which will no doubt be picture perfect by the time the pair is finished.
"Home is a feeling, created by and for the people you love and share your life with; it's a state of being known and loved just as you are," the Gaines explained in a press release. "That is our dream for this hotel — that it would serve as an extension of the way we feel about our own home and all it represents to us, and that every guest who comes to stay would experience that same sense of belonging and community."
They announced on Today that they will be converting a 53,000 square-foot former county office building in downtown Waco, Texas into a three-story hotel that will feature a restaurant, ballroom, rooftop terrace, café, and hopefully as much shiplap as they can fit into every square inch.
When talking about their hopes for the space, the couple said it will be for, "a weary traveler who's searching for rest, a parent who needs a weekend to recharge, a family eager for an adventure, or anyone else simply looking for a place to settle in and be filled up," the press release continued. "In all of these things, what it really comes down to is our desire to create a place where people feel welcomed home."
Of course, you know it will have all the classic touches that Joanna brings to every home renovation. Her farmhouse style and eye for the perfect decor for any room will no doubt make this hotel a place to remember. But don't book your ticket down to Waco just yet, the hotel (which has yet to be named) isn't slated to open until sometime in 2021.
This article was originally published on