Chip And Joanna's New TV Network Sounds Like It's Gonna Be Amazing
by Cassandra Stone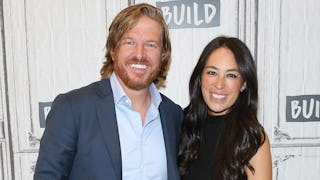 Image via Rob Kim/Getty
Everyone's favorite fixer-uppers are returning to our TV screens with their brand-new network
Holy shiplap, Chip and Joanna Gaines are officially coming back to television to reclaim their spot in our hearts. Everyone's favorite fixer-uppers are coming back — and this time, they've got their own network full of programming that sounds too good to be true. But it is!
Beginning in the summer of 2020, Chip and Jo will debut their joint venture with Discovery — and their complete takeover of the DIY channel. They're in the process of curating content for the network and its streaming app right now. The couple is planning on starring in their own, family-centered show — and yes, Fixer Upper fans can breathe a sigh of relief because reruns will be available to watch 24/7.
"Chip and Joanna Gaines have become trusted, household names since the debut of Fixer Upper and through this joint venture, Discovery is proud to extend our relationship with them," David Zaslav, CEO, of Discovery, said in a statement. "They've got authenticity and relatability, that special something that is so difficult in our business to find. People love them, their taste, their businesses—they've built an ecosystem that aligns perfectly with our vision at Discovery for fueling people's passions."
The announcement initially came last fall, when Chip and Jo stopped by The Tonight Show With Jimmy Fallon to share the exciting news. "You are going to get to see the kids grow up, you are going to see us, well maybe a six-month delay like the rest of the world, but we are excited to be back," Chip told Fallon at the time.
The couple decided to end their super popular HGTV show, Fixer Upper, last spring. Though fans were incredibly disappointed, the couple chose to focus on their growing family and spend some more time at home. Their fifth child, Crew, was born in the summer of 2018.
But the go-getting couple will be back and better than ever after their much-deserved time "off" (because having five kids, a lifestyle brand, writing a best-selling cookbook and design book, and an entire line at Target isn't exactly "time off.")
"Our intention with this network is to create and curate content that inspires, encourages, and helps to build bridges across our communities," the couple says in a joint press release with Discovery and their lifestyle brand, Magnolia. "We want honest, authentic programming that brings families together."
So far, it looks like the network (name TBD — taking bets on whether magnolias will be incorporated somehow) will feature long-form programming on topics including community, home, garden, food, wellness, entrepreneurialism, and design. And if you had your heart set on Fixer Upper reruns — you're in luck! The entire library of their initial show will be available OnDemand and on their streaming service.
They'll also star in a new signature show about their hobbies, projects, and their family. Personally, I think I speak for many of us when I say we'd love a show just about Jo and how she gets her hair to look like that every day. But this sounds good, too.
"The difference moving forward is Jo and I are going to be able to tell more of our life stories," Chip tells USA Today. "And so, as opposed to it being a very narrow vein in our universe, which is obviously construction and design and the things we do for a living, for us we feel like there's a more holistic story to be told here, and that's what we're going to focus on."