Snowboarder Chloe Kim And Her Dad Are The Breakout Stars Of The Olympics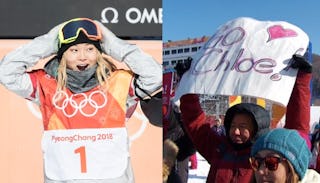 Image via XIN LI/Getty Images/Twitter/NBC
Gold-medalist Chloe Kim and her sweet family will give you all the feels
In the face of ever-rising income inequality, it's easy to feel like the American dream isn't really a thing anymore. It's gotten harder and harder for people who start with less to end up with more in this country, but today, snowboarder Chloe Kim and her family are celebrating being the exception to the rule.
Kim just won the gold medal at the Pyeongchang Olympics in women's halfpipe after landing her signature move: two 1080-degree spins back-to-back. At just 17, she was the first woman ever to land that move in an Olympic event, and as she did it, she was cheered on by her family, including her parents, who immigrated to the U.S. from South Korea in 1982.
Kim's dad, Jong Jin Kim, became a breakout star of this year's games for his handmade, laminated "Go Chloe!" sign that he waved from the sidelines during his daughter's run. And for good reason — have you ever seen a cuter, more proud dad?
Kim's dad and his sign have become a little bit of an internet sensation for the hope, success and just pure joy they represent.
As Kim collected her gold medal, NBC reports, her dad pointed to himself and yelled, "American dream!"
In interviews, Kim has talked about her immigrant parents and how much they sacrificed to help her achieve her Olympic dreams. Her dad taught her to snowboard when she was four, and later on, quit his job as an engineer so he could make the six-hour drives from Torrance, California, to Mammoth Mountain where she trained. While he gruffly waves off any praise for his sacrifice, saying it's "normal for all parents," Kim knows otherwise.
"My dad has definitely sacrificed a lot for me, and I don't know if I could do it, if I was in his shoes," she told NBC. "Leaving your life behind and chasing your dream because your kid is passionate about this sport; I think today I did it for my family, and I am so grateful to them."
And since this year's Games were held in South Korea, all of Kim's extended family — her parents, two sisters, sister's fiance, three aunts, two cousins and her grandmother, Moon Jung Ae — were able to be on hand to witness her winning gold. The emotional moment just gave Kim more motivation to do her best, even though her win was secured after her second run, and she didn't need to land the history-making two 1080s in the third and final run.
"I learned after the second run that my grandma was in the finish," she said. "I said, 'This one's for you, Grams.'"
Oh, our hearts.
Kim's family is a picture of what's so wonderful about the diversity in America. And with policies threatening immigration and a racist, xenophobic administration in the White House, these kinds of stories are more important than ever to show that diversity only makes the U.S. stronger.
This article was originally published on