Chobani CEO Pays Off District's Lunch Debt So Kids Don't Have To Eat Jelly Sandwiches
by Valerie Williams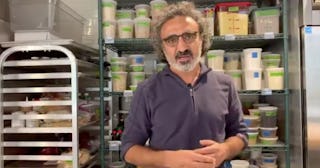 Chobani via Twitter
Chobani CEO pays off lunch debt for entire school district
This week, we heard the sad and infuriating news that a school district in Rhode Island was serving sun butter and jelly sandwiches to kids whose lunch accounts weren't paid off. Well, news travels fast, and once the story made the rounds, people were pretty upset to hear that little kids were being given a cold jelly sandwich while their peers had hot meals.
A lot of people got upset, but one seriously stepped up — Hamdi Ulukaya, the CEO of Chobani, has donated $77,000 to cover the school lunch debts of kids in the Warwick Public School district. He took to Twitter to explain why the story moved him to action.
"The last thing that kids should worry about today is if there's a warm lunch for them at school — and the shame they might feel if their classmates realize they can't afford a school lunch," Chobani said in a press release. The company says they're working "to bring attention to the national crisis of food insecurity among students."
The jelly sandwich rule was going to effect about 9,000 kids in the school district, from kindergarten to 12th grade, and that decision was made based on the fact that the law requiring schools to feed their kids doesn't say anything about what they feed them. Almost 70 percent of kids in the Warwick school district qualify for free or reduced lunch, however, kids with free lunches can still run up a bill on their lunch account for picking up extra items like milk.
"As a parent, this news breaks my heart. For every child, access to naturally nutritious and delicious food should be a right, not a privilege. When our children are strong, our families are stronger," Ulukaya said. "And when our families are strong, our communities are stronger. Business can and must do its part to solve the hunger crisis in America and do its part in the communities they call home."
The thing is, there's nothing great about a country that can't make sure its kids are fed at school. Having a full belly makes it easier to focus and learn — if there are kids having a sandwich full of sugar they won't be able to focus as well as their peer who had a healthy meal. As wonderful as it is to see someone like Ulukaya stepping up, he really shouldn't have to in the wealthiest country in the world.