Lucky Charms Released A 'Chocolatey Winter' Flavor Just In Time For The Holidays
by Valerie Williams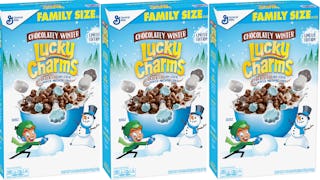 Image via Walmart
Lucky Charms' "Chocolatey Winter" limited edition is perfect for those cozy winter breakfasts
Thanksgiving is coming right up and after that? It's time for full-on Christmas and winter celebrating, so it's very timely that General Mills has just released a "Chocolatey Winter" special edition of Lucky Charms with all new marshmallows.
Our favorite magically delicious breakfast cereal is here with brand-new shapes for the holiday season including snowmen, snowballs, and snowflakes — all in appropriately wintry pale blue and white colors. Oh, and they've tossed in chocolate-flavored cereal to really drive home the yumminess.
Available at Walmart (even online!) the flavor is a special edition, so don't expect to still see it on shelves once the snow has melted. Not that we would want to — this treat looks exclusively suited for freezing cold mornings spent eating breakfast in front of a roaring fire. At my house, that's actually my son positioning his kitchen chair over the radiator while clutching his bowl, but whatever. Still very cozy, even if it's not Pinterest-level idyllic.
It seems that chocolate and marshmallow combos are very on-trend this holiday season — not that we're complaining. We can lay out a whole breakfast spread featuring nothing but Chocolatey Winter Lucky Charms, Pillsbury Hot Cocoa Rolls, and a big bowl of Hot Cocoa M&Ms for dessert. Sugar rush before 11am, yes please.
Since this special cereal is only available for a limited time, definitely plan to hit up Walmart ASAP and buy as many boxes as your cart can carry so you're sure to have this crave-worthy goodness in your pantry for as long as possible. 'Tis the season to forget the diet and enjoy every bit of cocoa and chocolate you can get your hands on. Happy shopping!
We are a participant in the Walmart.com Affiliate Program and may earn fees by linking to Walmart.com and affiliated sites.
This article was originally published on