Our Favorite 'Choose Your Own Adventure' Books Are Back, And We're Here For It
by Christine Organ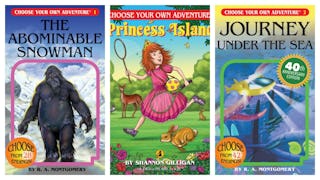 Chooseco LLC
One of the most unexpected joys of parenting is reliving old childhood pleasures with our own kids. Things like Rubik's Cubes, Slinkies, and Spirographs. And the books. OMG, the books. Who doesn't love reading about favorite characters from our youth again with our kids?
Some of my favorite books to read as a child were the Choose Your Own Adventure books. The maze of endings, and control over the story, made me feel like I was actually living the story — or at least creating a story that was all my own. I got lost in these books for days, taking different turns, and finding new endings within the pages of the same book.
Over the past few years, my husband and I have introduced our kids to some of our childhood favorites to varying degrees of success. A few years ago, I bought my kids a Choose Your Own Adventure book and was thrilled when they devoured it as happily as I did. Over the years, we've reread the book a gazillion times (literally) to find as many different story lines as we could.
You can imagine my excitement when I learned that R. A. Montgomery — author of many of the original Choose Your Own Adventures books — had formed a company to republish some of the best-selling titles in the original Choose Your Own Adventure® series. Since 2003, the company has reintroduced 36 titles from the original series and seven brand-new books. The company even launched an early reading brand with 19 titles, which means there's something for all elementary school-aged kids with a wide-range of reading levels.
My family recently received Chooseco's Whole Enchilada package — a collection of 40 titles (yes, 40!) — and let me tell you, it seriously felt like Christmas came early this year. My kids tore into the box and quickly chose their favorites.
Even better, my oldest son, who is a very reluctant reader, was excited to dig into the books. In fact, he declared the box of books as "totally awesome," which is high praise from an oft-sulky tween.
If you're looking for something a little smaller, the Little Enchilada package comes with 21 books and includes the full collection of books for younger readers.
The holidays are right around the corner, folks, and the company is currently giving away a free Whole Enchilada and Little Enchilada package (just click here). Just think of the hours of quiet time you'll get while your kids gobble these books up. Heck, that's worth the price alone. And the side of nostalgia is just the icing on the cake.
Editors may receive samples and/or a share from purchases made via links on this page. All opinions are our own.
This article was originally published on