Parents Swear By These Cheap Chore Sticks That Put Unmotivated Kids To Work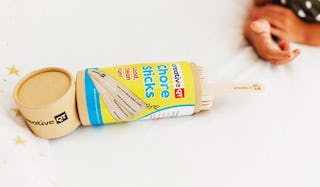 Creative QT
Responsibilities and chores can feel so dry. Spice things up at home so that kids feel more energized and excited about taking care of the various things on their to-do list. You can choose the types of chores you'd want your kid to focus on (like, "take dirty laundry to laundry room") and then have your little one pick a stick out of the pile.
Taking something that feels overwhelming and turning it into a simple task is the secret behind why these literal popsicle sticks can be more effective than your verbal reminders. At least for when it comes to getting kids to tackle responsibilities around the house. This unorganized method of organizing will yield more positive results.
"My kids, who are ambivalent towards chores, suddenly enjoy doing chores they normally don't, thanks to these sticks! No more complaining. Since my kids' schoolteachers use sticks like these in their classes, my kids are very accepting of whatever "chore" is on the stick without complaint." – CJ
The set comes with blank sticks so you can make your own chore sticks, too. Here's an idea: Add in some fun, random activities so your kiddo will be more receptive to pulling a stick in general.
More:
These 50+ Baby And Parenting Products Are Freaking Genius And We Need Them All
This Convertible Bean Bag Bed Is A Sleepover Essential
All products featured in our shopping guides are spotted by Scary Mommy editors. We may earn a commission on purchases made through links from our site.
This article was originally published on