Chris Cuomo Faces Backlash For Saying He's 'Black On The Inside'
by Erica Gerald Mason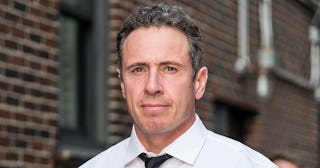 Gilbert Carrasquillo/GC Images/Getty
The CNN commentator raised eyebrows with his comment
Seems Chris Cuomo and Hilaria Baldwin would have a lot to talk about. Baldwin could speak about her experience as a Spanish woman making her way in the United States while Cuomo could talk about the gross racial profiling he's received as a Black man.
Yeah…
Cuomo made news Friday for remarking that he's "Black on the inside" during a conversation with his fellow commentator Don Lemon.
The cringe-y comment came as the Cuomo Prime Time host signed off and introduced Lemon, who came on air to begin CNN Tonight with Don Lemon. Cuomo began to sing the theme song to the '70s tv show Good Times, a show about a Black family.
As Cuomo sang, Lemon laughed and questioned, "How do you know the words to Good Times?"
Instead of saying something like 'Oh, everyone knows the theme to Good Times' or 'I watched the show on repeat as a kid', or any other reasonable answer, the commentator decided to be funny when he remarked, "You know I'm Black on the inside."
Cuomo ultimately talked about his comment on Twitter, posting, "Said with all respect to reality and our need to fight this amplification of color animus."
"There is no understanding what it is to live as a black person in America if you are white but it is so important to listen," the post continued. "The majority must change racism."
Some Twitter users didn't see a problem with what Cuomo said. "I don't know why you're facing 'backlash'," one post read. "If you want to be Black on the inside that's fine! As far as I'm concerned you're for us."
Others in the Twitterverse put Cuomo on blast for the comment throughout the weekend.
Another Twitter user wrote, "Note to all white liberals: literally no one of color wants you to do or say something like this."
"Now why did I just see Chris Cuomo say 'I'm Black on the inside' on live TV," a third person tweeted.
"Are the Cuomo brothers competing for s—–est," Cuomo [right now]?" one person tweeted, referring to the current allegations of sexual misconduct against Cuomo's brother Andrew, the governor of New York.
Last week, Chris spoke about the allegations against his brother. "Obviously, I'm aware of what is going on with my brother, and obviously, I cannot cover it because he is my brother," he said. "Now of course CNN has to cover it. They have covered it extensively, and they will continue to do so."
As the world reels from a year of pandemic shutdowns, winter storms, and the interview of the century, this Twitter user voices what so many of are thinking about the brothers Cuomo – they need to stop. Five minutes ago and 20 minutes from now.