Chris Harrison Weighs In On Rumors Peter Ends Up With A Producer
by Christina Marfice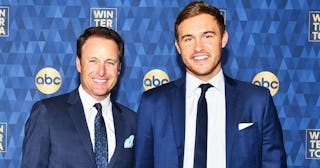 Rodin Eckenroth/Getty
Here's what Chris Harrison had to say about all those rumors about Peter Weber and Bachelor producer Julie LaPlaca
The ending of this season of The Bachelor is finally in sight, and something very unusual has happened with Peter Weber in the main role: The people who usually manage to find out the ending and post spoilers haven't been able to do that. Both Peter and the show's host, Chris Harrison, have promised this will be the first unspoiled season, and viewers have been trying to figure out why.
There's one very popular theory that seems to have originated on Reddit: that Peter doesn't end up with any of the contestants on his season, but that he actually fell in love with Bachelor producer Julie LaPlaca. It would certainly be an ending unlike any we've ever seen before, and there are some receipts that point to it possibly being true, like a photo Peter's dad posted to Instagram that showed the whole family having dinner — with Julie.
Plus, Julie posted a photo of herself in New York on New Year's Eve, and a tall man trying to hide in the background of her pic was undeniably Peter.
So it's unlikely that that's actually how Peter's season ends, but it hasn't stopped sleuthing Bachelor fans from wondering. And now, Chris Harrison himself has finally weighed in on the rumor and explained more about Peter and Julie's very close relationship.
When asked about a photo Harrison posted of himself, Peter, and Julie on the Bachelor set, he told Access, "Actually, I didn't mean to do anything other than the fact that we spend a lot time together, we travel the world together. Julie, an amazing, talented, smart producer that works for us — works on the show, so she's with Peter."
He continued, "It's an intimate relationship. You spend that much time together we all get close. Sometimes those lines get blurred."
Is it just us, or does that sound like he's hinting that there's more than just friendship between Peter and this Bachelor producer? Seemingly on purpose, Harrison didn't confirm or deny anything specific about the pair's relationship.
"The only rules are, Peter needs to have the best opportunities to find love," Harrison said. "If something were to mess that up, then we would step in. We would help."
Chris Harrison is clearly not trying to shut this rumor down ahead of the show's finale in a couple weeks. It's not likely that Peter and Julie are together and ABC is letting them post their relationship all over social media, but hey, we can't write off this possibility just yet, and we love a good twist ending.