Chris Harrison 'Stepping Aside' After Defending 'Bachelor' Contestant's Racist Behavior
by Madison Vanderberg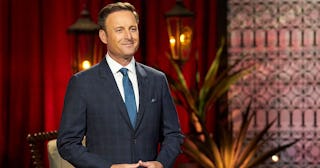 Craig Sjodin/ABC
Chris Harrison is "stepping aside for a period of time" from The Bachelor after defending Rachel Kirkconnell's racist social posts
At what point do you finally just cancel The Bachelor? After watching white people fall in love for almost two decades and the franchise needing a racial reckoning in the U.S. to finally cast a Black star, longtime host Chris Harrison announces he's finally "stepping aside" from his hosting duties on the show after making a number of racist comments this week.
The backstory is: Earlier this week, Rachel Kirkconnell, a contestant — and frontrunner — on the Matt James' season of The Bachelor, was called out for old social media posts in which she dressed in Native American attire for a costume party and attended an "Old South" antebellum plantation-themed party in 2018. Kirkconnell has since apologized for those racist social posts, but Harrison went on Extra on Tuesday, February 9, 2021 and in an interview with Rachel Lindsay — the first Black Bachelorette — he went to great lengths to defend Kirkconnell's racist behavior.
Using phrases like "the woke police," telling people they should have "a little grace, a little understanding, a little compassion" for Kirkconnell, and even claiming that plantation-themed parties were extremely "popular" in 2018, the interview was an absolute train wreck. Harrison essentially just spent all 13 minutes of the interview defending someone's right to be racist.
Harrison apologized afterwards saying he was wrong for "speaking in a manner that perpetuates racism," but Lindsay says his apology wasn't enough. "During that conversation, his privilege was on display. He never gave me room to talk, and he never gave me room to share my perspective. He wasn't trying to hear it, he was just trying to be heard," Lindsay later said during an episode of her podcast.
All week there have been calls for Harrison to be fired and on Saturday, February 13, 2021 — Harrison announced he was "stepping aside" from the franchise, or at least for the rest of the current season.
"I have spent the last few days listening to the pain my words have caused, and I am deeply remorseful. My ignorance did damage to my friends, colleagues and strangers alike. I have no one to blame but myself for what I said and the way I spoke," he wrote in a statement.
"By excusing historical racism, I defended it," Harrison continued. "I invoked the term 'woke police,' which is unacceptable. I am ashamed over how uninformed I was. I was so wrong."
"To the Black community, to the BIPOC community: I am so sorry. My words were harmful. I am listening, and I truly apologize for my ignorance and any pain it caused you," he added. "I want to give my heartfelt thanks to the people from these communities who I've had enlightening conversations with over the past few days, and I am so grateful to those who have reached out to help me on my path to anti-racism."
"The historic season of The Bachelor should not be marred or overshadowed by my mistakes or diminished by my actions. To that end, I have consulted with Warner Bros. and ABC and will be stepping aside for a period of time and will not join for the "After the Final Rose" special," he continued.
Interestingly, he is "stepping aside" and not "being fired." Since Kirkconnell's social media posts surfaced, the 25 BIPOC contestants from James' season issued a statement via Instagram, denouncing "any defense of racism."
It's unclear how long Harrison will be off the franchise or if he'll come back for a future season. Seems like it's way past time to make this "stepping aside," permanent.