Chris Hemsworth Dancing To 'Wrecking Ball' Is Your New Favorite Thing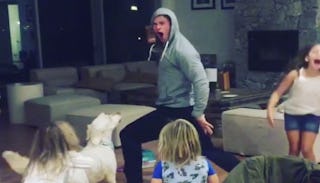 Image via Instagram/Chris Hemsworth
Hemsworth clearly has his dancing shoes on in this adorable video
Some things are just too cute for words: a baby's first smile; a bucket of puppies; this hamster eating a tiny burrito; and now we can officially add "Chris Hemsworth dancing in his living room with his kids" to the list.
The Thor actor posted a video of himself on Instagram dancing and lip-syncing with his kids and dog, which in and of itself is next level adorable. But the fact that the song they danced to is none other than Miley Cyrus' "Wrecking Ball" makes it even more hilarious.
The actor and father of six-year-old daughter India Rose and four-year-old twin sons Tristan and Sasha dropped it like it's hot over the weekend with his kids, belting out Cyrus' hit song. Of course, she's also the future sister-in-law of Hemsworth, who is engaged to his brother, Liam. And obviously his dog got in on the action.
"What started as a ground breaking music video ended in a savage attack by a cowardly K9," he wrote. "Never work with Kids or Animals." He also tagged brother Liam and Cyrus in the sweet vid.
The 34-year-old actor, who's been married to Elsa Pataky since 2010, took a very dramatic approach to his version of the song, so much so that his pup stepped in, obviously concerned his owner was having some sort of seizure.
The Avengers star has always seemed to be peak dad. He expertly handled his daughter's request to have a penis like her brothers and takes his daughter surfing with him during their family vacations camping in Australia. Lucky for the rest of the world, he did so shirtless.
It sounds like the elder Hemsworth gets along well with his future sister-in-law, People reported earlier this year. "I always just expected her to put on a show and bang a few songs out but she never does," he said. "I'm insisting constantly. I'm like, 'When's the performance coming?' But she's just a lot of fun."
By the looks of the video, I'd say his kids will be entertained (albeit likely embarrassingly so as they age) by their dad for many years to come.
SaveSave
This article was originally published on