Chris Hemsworth Is Every Parent With Their Kids Popping Up In Zoom Meetings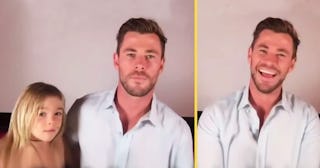 Triple M/Youtube
Chris Hemsworth's kids are making his live interviews a lot more interesting to watch
You've probably seen the countless memes floating around about trying to make work and homeschooling happen at the same time. Parents are on endless video calls for work while their kids are bopping in and out of the frame. It's just life now while tons of families adjust to working from home and living pretty much constantly at home as we weather the coronavirus pandemic. Chris Hemsworth is no different in this regard as he adorably proved on a recent video interview where his kids made it impossible for him to focus. Been there, dude. Been there.
The difference between Hemsworth and someone like, say, myself dealing with an unplanned kid-terruption during a work-related video chat is that he's adorable and patient and I'm… not always. While I whisper-hiss at my kids to GTFO of my office, Hemsworth calmly raises a finger to his (really nice) lips and attempts to shush and gently shoo away his little one. When that isn't enough, he lets the kiddo climb up on his lap.
At first, Hemsworth just tells the hosts of the Australian radio show Hot Breakfast that the commotion heard in the background is his kids. The Extraction actor seemed pretty distracted from then on, and suddenly, a head of blonde hair creeps onto the screen.
It's not clear which of his twins it is, either Tristan or Sasha, but E! claims it's Tristan. Doesn't really matter — any kid popping up on a video chat you're doing for work is a ball of stress, but Hemsworth casually handles it like the super dad he is. He calmly allows the tot to sit with him for a few moments and continues on with the interview like nothing is off.
After a short time, the little one grows bored and leaves, but for the rest of the video, Hemsworth is hearing his kids offscreen and explaining that they're doing somersaults and throwing pillows. Once again, been there.
We're all just doing our best to survive this new normal and as long as your employer is cool with it, the occasional child arriving onscreen during a work meeting shouldn't be the end of the world. Just take my advice and handle it like Hemsworth, not me. Employers might not mind a toddler making a cameo but a few F bombs under the breath isn't a great look.