Chris Hemsworth's Vacation Pics Prove He's #DadGoals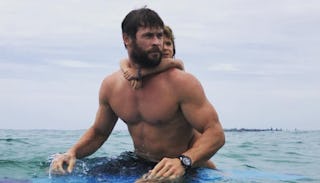 Image via Twitter/Chris Hemsworth
Chris Hemsworth surfing with his daughter on his back is serious dad goals
In case you thought you couldn't love Chris Hemsworth more, these pictures of the Thor star giving his daughter surfing lessons will change your mind. Not only is he shirtless and beautiful, he's clearly the best dad ever. It's too much.
Hemsworth tweeted photos of the surfing lessons yesterday with the caption "Amazing camping trip, no place I'd rather be." There's no place we'd rather be either, Chris. Because, hello.
If that glimpse of Hemsworth's bare chest and dad prowess wasn't enough, wait, there's more. He also tweeted a video of himself surfing with his daughter ON HIS BACK.
"Day two with my surf coach, she's like a little angel on my shoulder constantly feeding me knowledge and inspiration and occasionally heavy handed criticism that borders on abuse but I know it's for my own good (joke) Thank you coach Indi you're the greatest, love u," he wrote.
Hemsworth's daughter, India Rose, is five years old and already capturing all of our hearts. He also has three-year-old twin sons, Sasha and Tristan, who are with them on a family camping trip in Australia.
One of the boys is already learning to stand up on a surf board, which Hemsworth proudly shared in a video on Instagram. "This sport's too easy dad I'm just gonna take this one into the beach, peace," he wrote.
We aren't the only ones swooning. Hemsworth's adorable pictures and videos with his kids were too much for some of his fans.
https://twitter.com/jetpack/status/971164182916878336
This fan's reaction to Hemsworth's bare chest, we mean dad skills, was all of us.
This article was originally published on