Stay-At-Home Dad Leaves Funny Post-Its Around The House For His Wife To Find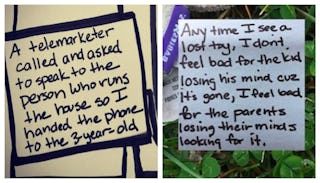 Image via Instagram
Who needs Twitter when you have sticky notes?
Parenting is funny business, and thanks to social media, there's no shortage of ways to share the hilarious ups and downs of raising kids. But one stay-at-home dad is going old school, and actually writing things down.
Chris Illuminati left his job to become a stay-at-home dad when his son was born in 2010. His wife, worried he'd forget the myriad duties required of new parents, urged him to write down all his responsibilities.
He went in another direction.
"As a joke (because I've never taken anything in life seriously), I wrote down even the simplest of tasks and pinned it to my bulletin board," Illuminati wrote on his blog, Message With A Bottle. "I forgot all about the note. I also forgot to change the baby."
Seven years – and another kid – later, Illuminati's blog has over 60,000 followers on Facebook. One glance at his hysterical posts makes it easy to see why.
He has some legit solid parenting tips.
He's not afraid to tell the truth about life with a toddler.
Illuminati, whose Tumblr page went viral a few years ago, making the rounds on morning shows, became a stay-at-home dad out of necessity, noting on his blog's "about" page that daycare is "obscenely expensive."
"It made more fiscal sense to stay home with my kid child than to collect a paycheck, only to hand it over to a day- care facility to watch my young son." I can vouch for that. It's one of the reasons I spent some (unhappy) time as a stay-at-home dad. Unfortunately, my wife's nagging didn't result in national media coverage!
Along with his blog and Facebook page, Illuminati shares his post-it jokes and other observations and images, on Instagram and Pinterest.
h/t
This article was originally published on