Chris Meloni Is Every Confused Dad At Coachella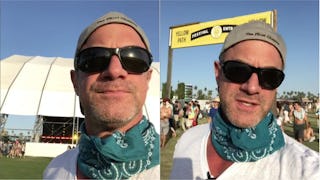 Image via Chris Meloni / Instagram
Chris Meloni trying to figure out Coachella should make him Dad of the Year, TBH
The Coachella Valley Music and Arts Festival may be the biggest music festival in the world, but that doesn't mean The Olds™ understand it. Music festivals are definitely a young person's stomping ground, as any parent who's acted as music festival escort for a trendy teen knows all too well. And as of this past weekend, that includes Law and Order: SVU star Chris Meloni, who took his 17-year-old daughter, Sophia, to Coachella and hilariously documented the entire, very confusing experience on Instagram.
From his very first video, Meloni revealed his total amateur status, welcoming his followers to "the world famous Co-Uh-Chella." Yep, he can't even pronounce it, and if you're not dying laughing at this already, buckle in, because it only gets better.
But first, props to Meloni for nailing his festival attire. The backward cap, shades, and neck bandana combo makes him an effortlessly cool dad, and we're just going to ignore the fact that we know Sophia dressed him and give him this point. He deserves it.
The next stop on Meloni's tour of 'Chella was a painted glass installation, surrounded by dancing youths. He video-documented the scene for a minute, before turning the camera to his face and matter-of-factly stating, "Art installation." The post is captioned "#ART," and that's how we now know Meloni is either an ironic genius, or has no fucking clue what's going on around him. It could go either way at this point and we're here for it.
Then it's on to Coachella's famous ferris wheel, AKA some #GoodCleanFun.
And then some of that electronic music the kids are so into. Meloni is definitely getting into things at this point — his EDM head bob is on point.
Meloni then hits the main stage, where he stays totally stone-faced, clearly dedicated to the important task of lurking and embarrassing his kid. He's lost his bandana by this point, but such is #FestieLife. If you went to Co-Uh-Chella and didn't lose an article of clothing, did you actually go to Co-Uh-Chella? As Meloni has learned, no, you did not.
After a full day in the Valley, though, you can tell that Meloni is starting to understand what this festival thing is all about, as evidenced by this post, when he finally loses his stoic composure for a minute, marveling at the beauty of some random lights in the sky. Because this is what #FestieLife is all about: Nobody knows what's going on ever but everyone's having a great time anyway, and even confused parents can fit right in and get down with it.
And the transformation from Dad Meloni to Festival Pro Meloni is complete when Beyoncé takes the stage at the end of the night, because Beyoncé can transform anyone into their best self. And Meloni's best self is clearly Coachella-goer.
While other confused parents and seasoned festival-goers alike were cackling at Meloni's documenting, he was just having a great time with Sophia. He closed out his Coachella series on Instagram with a sweet father-daughter selfie, and now hearts everywhere are melting.
Because at the end of the day, the whole strange experience was about being an amazing dad, and taking his daughter somewhere awesome and hanging out. As weird as things got, that's Meloni's top priority, and it's why we love him so damn much.