Chris Noth Addresses Rumors That He's Not Returning To SATC Reboot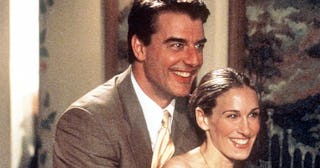 Paramount Pictures/Getty
Noth posted on Instagram as a reply to a fan's question about whether he would participate
With news of the Sex and The City reboot And Just Like That hitting HBO later this year, fans were sad to hear that Kim Cattrall's Samantha wouldn't return. Then rumors began to swirl that other series regulars wouldn't be back either. Last week, Page Six reported both Noth's role as John James "Mr. Big" Preston and David Eigenberg's Steve Brady on the original series, are getting nixed.
The Twitterverse seemed to understand.
Others didn't mince words.
While other people couldn't bear the thought of Carrie's husband not returning to the series.
US Weekly reports a commenter begged for Noth to "reconsider" his plans not to return and not make fans "sad." The actor cheekily replied, "Well, if Page Six says it … it must be true 😉."
He told another commenter, "Everything changes — including announcements in the rags."
The original Sex and the City ran on HBO from 1998 to 2004, and was followed by two big-screen films in 2008 and 2010 in which all four leading ladies Sarah Jessica Parker (Carrie Bradshaw), Kim Cattrall (Samantha Jones), Cynthia Nixon (Miranda Hobbes) and Kristin Davis (Charlotte York) starred. Both Noth and Eigenberg featured in the series and the movies.
The show remains iconic to women worldwide.
Parker, Nixon, and Davis, confirmed the 10-episode revival show through Instagram early last month. "I couldn't help but wonder … where are they now? X, SJ," Parker captioned her trailer post in January.
The reboot, no doubt, will provide fashion inspiration to everyone who misses the series.
When a fan asked if Mr. Big would be back for more, Parker answered, "Wait and see."
Noth formerly told Us Weekly that he had no interest in playing the part of Mr. Big again. "I feel like we told that story," he said in 2017. "I don't think there's anything left for me to say about that. I want to tell other stories."
Lynn Cohen, who played the character of Magda, Samantha's housekeeper-nanny died on Valentine's Day last year. It remains to be seen if her role will be recast or if the reboot will address her absence.
As for Cattrall, other than liking a tweet that read, "I absolutely love Sex and the City and whilst I am saddened that Samantha will not return, I applaud doing what is best for you and think this is [a] great example of putting yourself first. Well done @KimCattrall," Catrall has not said much about the reboot.
She did, nevertheless, pitch some possible alternatives for Samantha, including Sofia Vergara and Tiffany Haddish.
Some Twitter users hope Cattrall's refusal to film is a negotiating tool.
With our without Sam, Steve, and Big, will the show still be a hit? Let's let a fan weigh in: