Chris Pratt And Anna Faris Announce Separation, Internet Is Not Taking It Well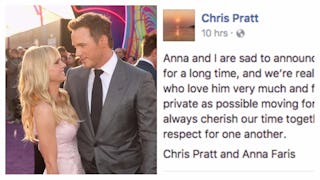 Image via Getty Images
Chris Pratt And Anna Farris announce separation
In a joint statement posted to their social media accounts, Chris Pratt and Anna Faris announced their separation last night. The couple has been married for eight years and are parents to a five-year-old, Jack.
"We are sad to announce that we are legally separating. We tried hard for a long time, and we're really disappointed," the announcement starts. "Our son has two parents who love him very much and for his sake we want to keep this situation as private as possible moving forward. We still love each other and will always cherish our time together."
This couple is just so damn likable, funny, and adorable that it seems the whole internet was rooting for them to stay together.
Twitter isn't taking it well.
We pull for likable couples like this because we see ourselves in them. Not exactly, obviously — but loosely. We want to know that happy endings are possible. Seeing a seemingly stable, happy couple split up makes us reflect on the fact that marriage is hard. Really hard.
Chris Pratt posted the same announcement to his Facebook page:
In nine hours it's been shared 22,000 times and there are over 25,000 comments — the internet is really not taking this well. Honestly, we can't blame them.
The couple is reminding us today that not all marriages work — and that just sucks. And it's especially hard news when both parties are so damn fantastic. UGH. Why, love? WHY?
This article was originally published on