Chris Pratt Just Shared A Pic Of His Sunburned Butt And People Are Thirsty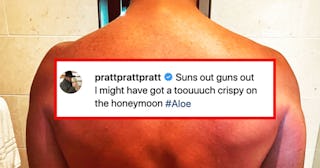 Chris Pratt/Instagram
The internet has lost it for Chris Pratt's sunburned honeymoon pic
Chris Pratt and Katherine Schwarzenegger tied the knot on June 8, 2019, in an intimate wedding held at Pratt's Parks and Recreation co-star Rob Lowe's house in Montecito, California. Pratt and Schwarzenegger started dating a little over a year ago and according to Schwarzenegger's Instagram, the hush-hush wedding was everything she ever hoped for.
"Yesterday was the best day of our lives!" the newly-minted Mrs. Pratt wrote in an Instagram post. "We became husband and wife in front of God, our families and those we love. It was intimate, moving and emotional. We feel so blessed to begin this new chapter of our lives."
Two weeks after the wedding the couple jetted off to Hawaii for a joint honeymoon/birthday trip (Pratt celebrated the big 4-0 on June 21), and the happy groom appeared to have the time of his life in the Aloha state (sources told Us Weekly that Pratt was "swimming in the pool with goggles on and eating french fries," which is just, pretty much, the cutest).
However, that honeymoon bliss didn't last long as Pratt took to Instagram to share off the gruesome sunburn he got on his back while vacationing in Hawaii.
"Suns out guns out," Pratt captioned a photo of his beet-red backside. "I might have got a toouuuch crispy on the honeymoon."
Oh, just a touch.
At first glance, the world was like, "Ouch," but on second glance, the internet's reaction was a tad more "hubba hubba" if you know what we mean. The internet is thirsty for Pratt's sunburned back and buns 'o steel, is what we're trying to say.
Pratt's wife simply commented on the pic with the flame emoji, but the ladies of the internet made their thirst very evident.
Even Ethan Hawke's wife got in on the action.
Our favorites are: "Can we see the front? For medical purposes of course" and "Cap might have America's ass, but this is the Galaxy's ass," which is a play on the Chris Evans — who plays Captain America — perfect butt meme.
But in all seriousness, Pratt, bud, are you trying to get skin cancer? Tight buns or not — SPF all day every day, people!
This article was originally published on