Chris Pratt Makes Ellen Cry Laughing — And You Will Too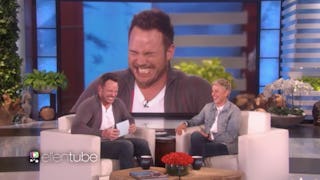 Image via YouTube
Chris Pratt makes Ellen DeGeneres laugh herself to tears in hilarious segment
Do you love having fun? Do you love Chris Pratt? It's hard to imagine the answer to either of those questions being no, so let's continue on and watch this amazing video of the actor's recent appearance on "The Ellen DeGeneres Show" where he made Ellen cry actual tears of joy.
It's every bit as wonderful as it sounds.
During his interview on the show, Pratt and DeGeneres played Speak Out, a game I'd never heard of until today but apparently now require in my life because it's already in my Amazon cart after watching this hysterical clip of the celeb pair playing a round. The game involves a mouthpiece that makes it difficult for the wearer to speak clearly while the other players attempt to guess what they're trying to say.
Needless to say, hilarity ensues when these two give it a shot.
The "Guardians of the Galaxy Vol. 2" star could barely contain himself from the very start as he read phrase after phrase with the mouthpiece obscuring his speech, making him sound totally ridiculous. The first try was, "Where did you place the parakeet?" and DeGeneres got it in seconds. The next one, "Bosses love free donuts," was similarly easy for her to guess.
It was when Pratt tried saying, "I'm gonna bump you" in a semi-seductive voice that the two absolutely lost it. Just try saying that sentence with something in your mouth and you'll understand why.
DeGeneres wipes tears from her eyes and Pratt is laughing so hard his mouthpiece is causing him pain. "Oh it kinda hurts too," he says between loud chuckles. He tries using the lyrics to Fergie's "My Humps" to give her hints and eventually, she gets it right. But not before they're both out of breath from the effort.
Chris Pratt's unrestrained laughter is akin to angels singing and Ellen is the absolute most wonderful human on earth. The idea of playing a game like this with the two of them is a dream none of us mere mortals will ever experience, so we're grateful to at least be able to watch them on TV. This is definitely the shot of levity we needed this week.
Now, please excuse me while I cancel my Amazon order and head to Target to pick up this game because even Prime can't get this brand of fun to me fast enough.
This article was originally published on